Montana Shlucha Chavie Bruk is used to throwing big Chanukah parties for her community but this year, COVID prevented the community from gathering. Instead, she decided to throw a Chanukah party for her family, and she shared some tips for others as well.
By Chavie Bruk – Clearasmud.blog
Hi my friends! Can you believe that Chanukah is upon us!? I love Chanukah and I am used to throwing big parties and fun celebrations in our Montana community.
It is going to look really different this year as we are not going to be able to have our annual Chanukah Bash. It's one of our favorite events of the year and my kids really look forward to it. So, I decided to throw a Chanukah party for my family like I would for our guests. Something practical and fun, kid friendly but also elegant. This was as much of a treat for me as it was for my family. We need to be able to create that special holiday spirit, no matter what. Nothing does that for me more than a thought-out party infused with lots of love, but let's be real, I'm not a content creator at all, so I decided to go out of my comfort zone. I created a family friendly Chanukah party that I hope will inspire you to take the time and put the effort in to make this Chanukah special for your family too!
I like to find that one item that helps drive the stylish decor. This time, I found a gold menorah in Target that gave me something concrete to work with. I then found paper goods that worked. Personally, I didn't want the typical Chanukah plates and blue and white wasn't speaking to me. I was happy to find something locally that fit perfectly with my vision. Let's talk about candles for a minute, in my humble opinion, you cannot have a party without candles, and flowers for that matter.
Once I had the décor figured out, I got busy with the menu. I wanted to have fun with specialty foods that are also kid friendly, staying away from the typical "kids menu" of hot dogs and French fries.
There are so many good cookbooks and resources out there, that it can be overwhelming to sift through them all. A trick that I started implementing, is that when I prepare for an event, I choose 1 or 2 cookbooks that I will use as my creative source and that's it. It really helps me streamline and not get buried under too many ideas.
I chose to use Between Carpools new cookbook Dinner Done and a previous Chanukah issue of Fleishigs Magazine. As a special treat I reached out to Fleishigs magazine and asked if they wanted to treat my readers to something special and they were awesome! They gave me a code for 25% off newsstand price for subscriptions! Click https://www.fleishigs.com/subscribe and enter code CHAVI at checkout. I have been enjoying the magazine from the day they printed the first issue and highly recommend it!
The menu was a hit, liked by adults and kids alike.
Here's what I did:
Flavored water in mason jars (get creative, anything goes) I did 3 flavors 1) Strawberry, lime and mint 2) Mango, peach and basil 3) Mixed berries, lemon and basil. They were all delish. Great alternative to a sugary drink; its yummy and healthy.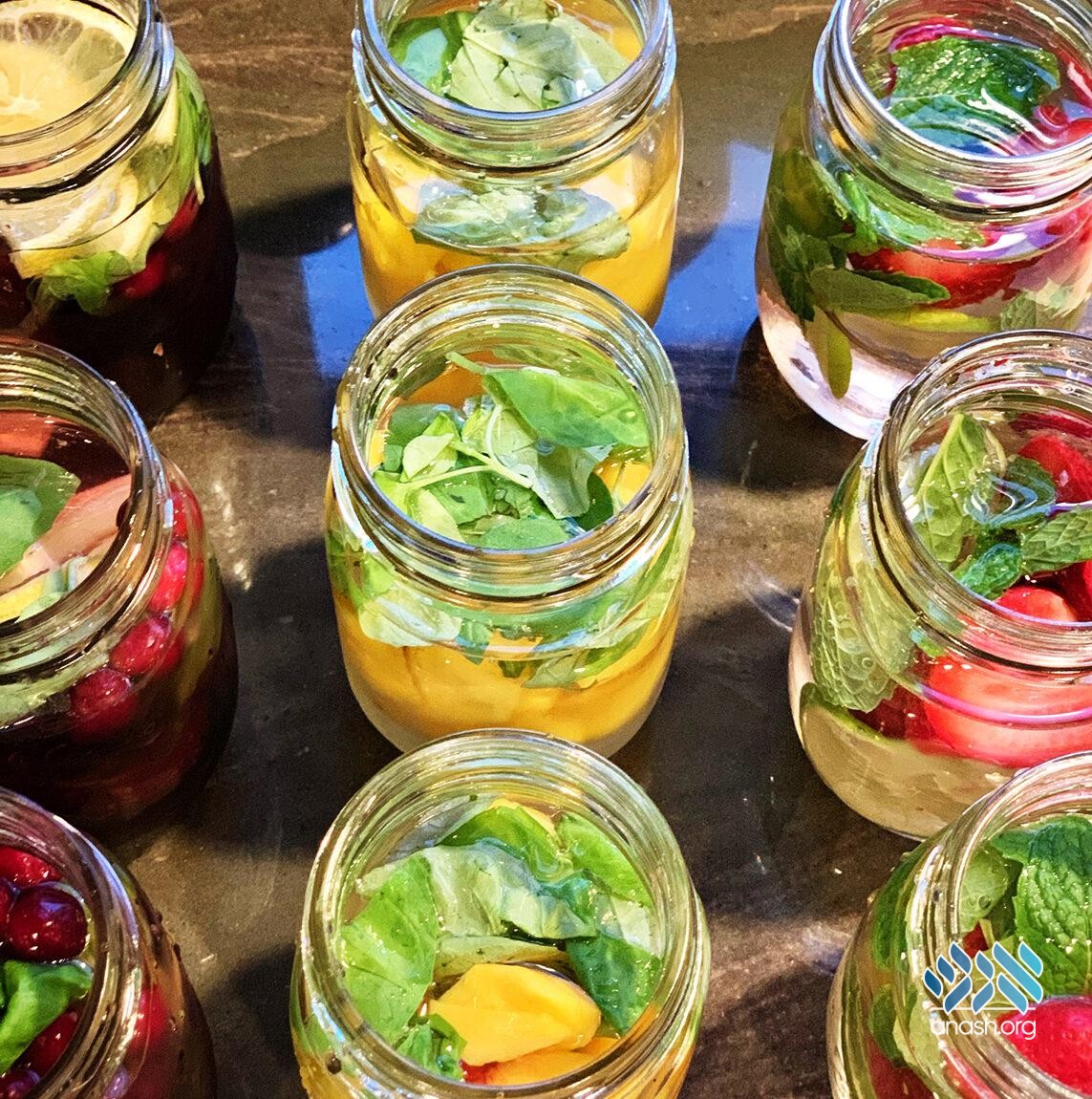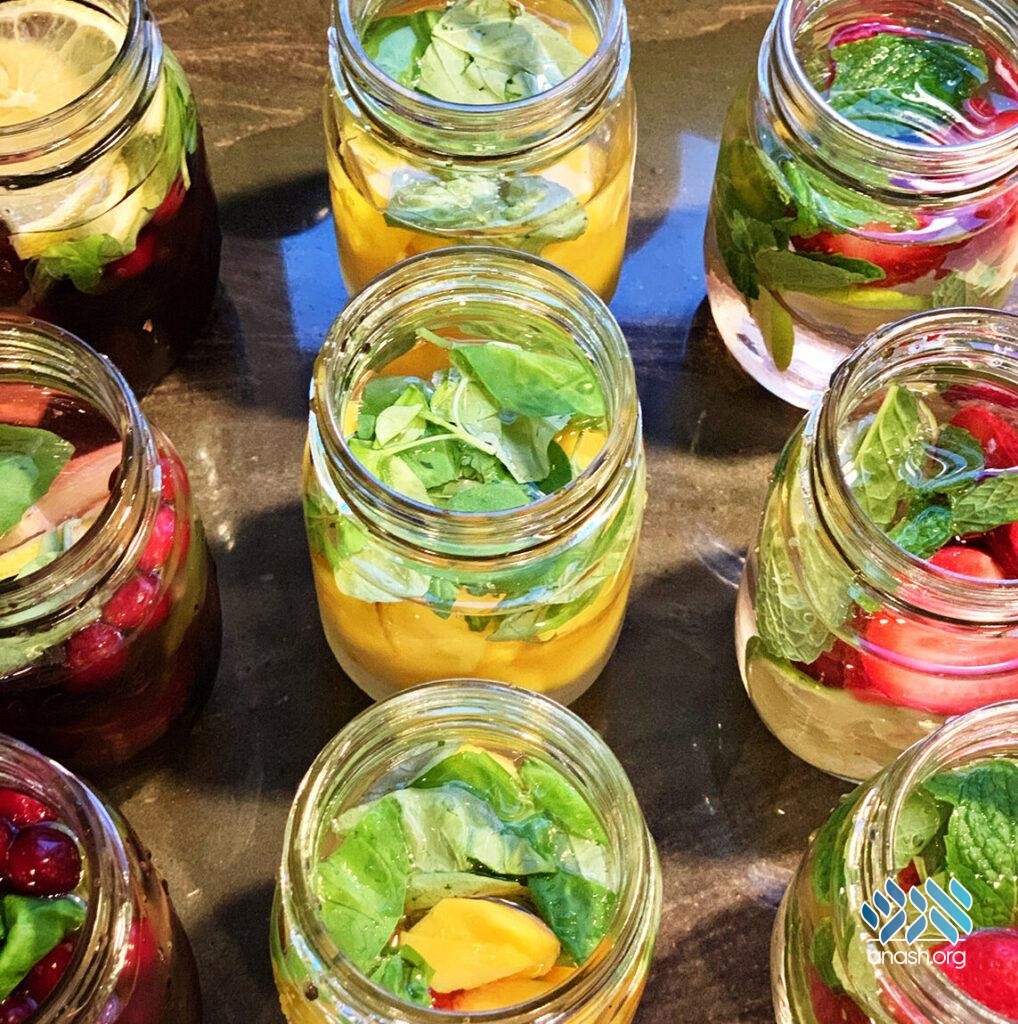 Tomato soup with dumplings from Dinner Done.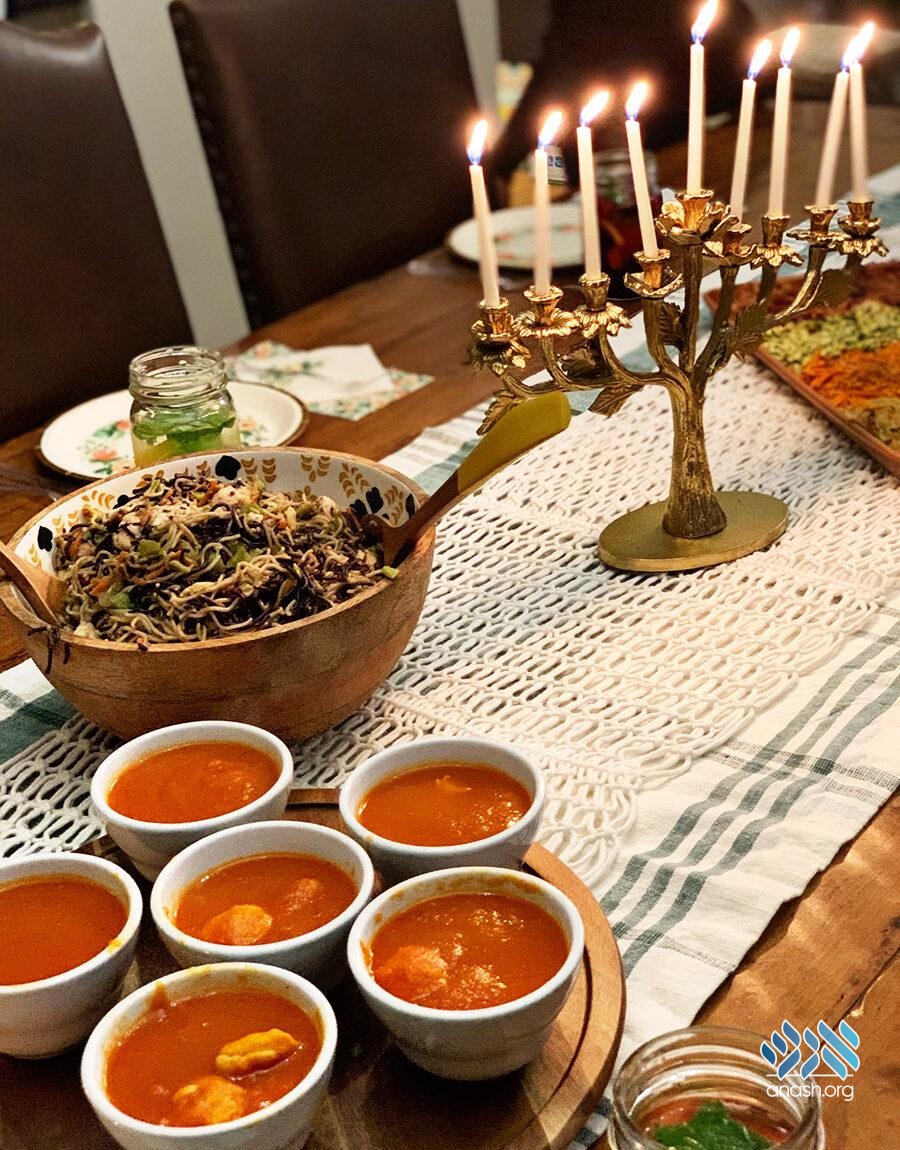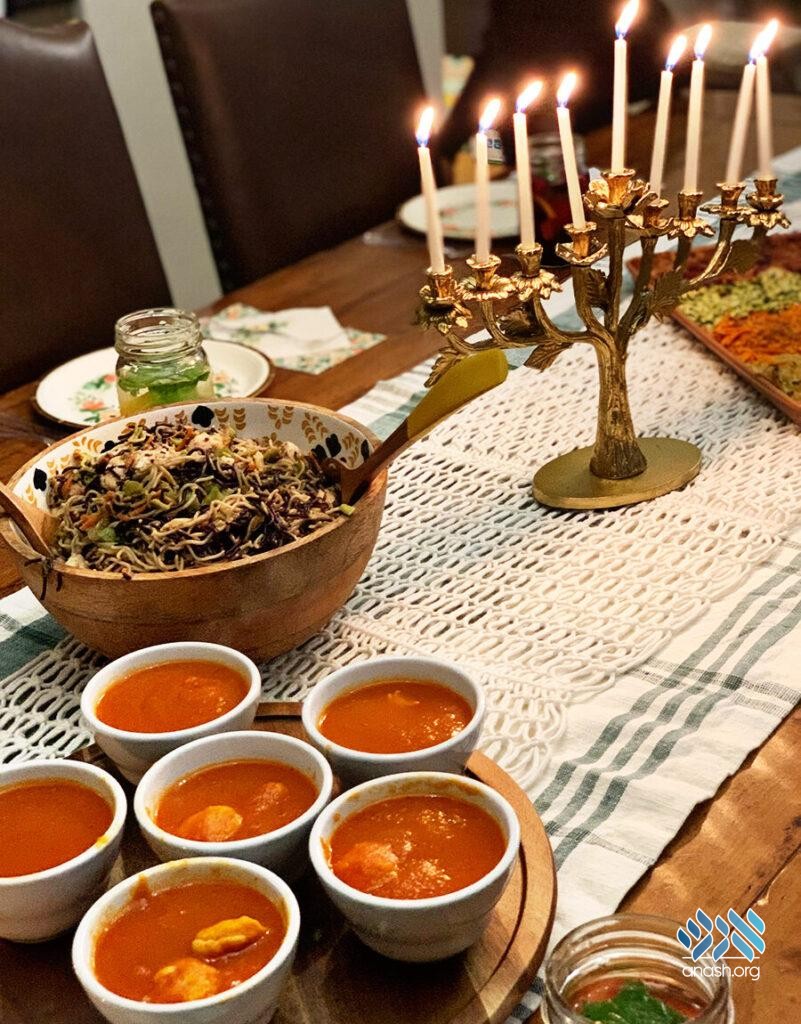 Take-out chicken Lo Mein from dinner done.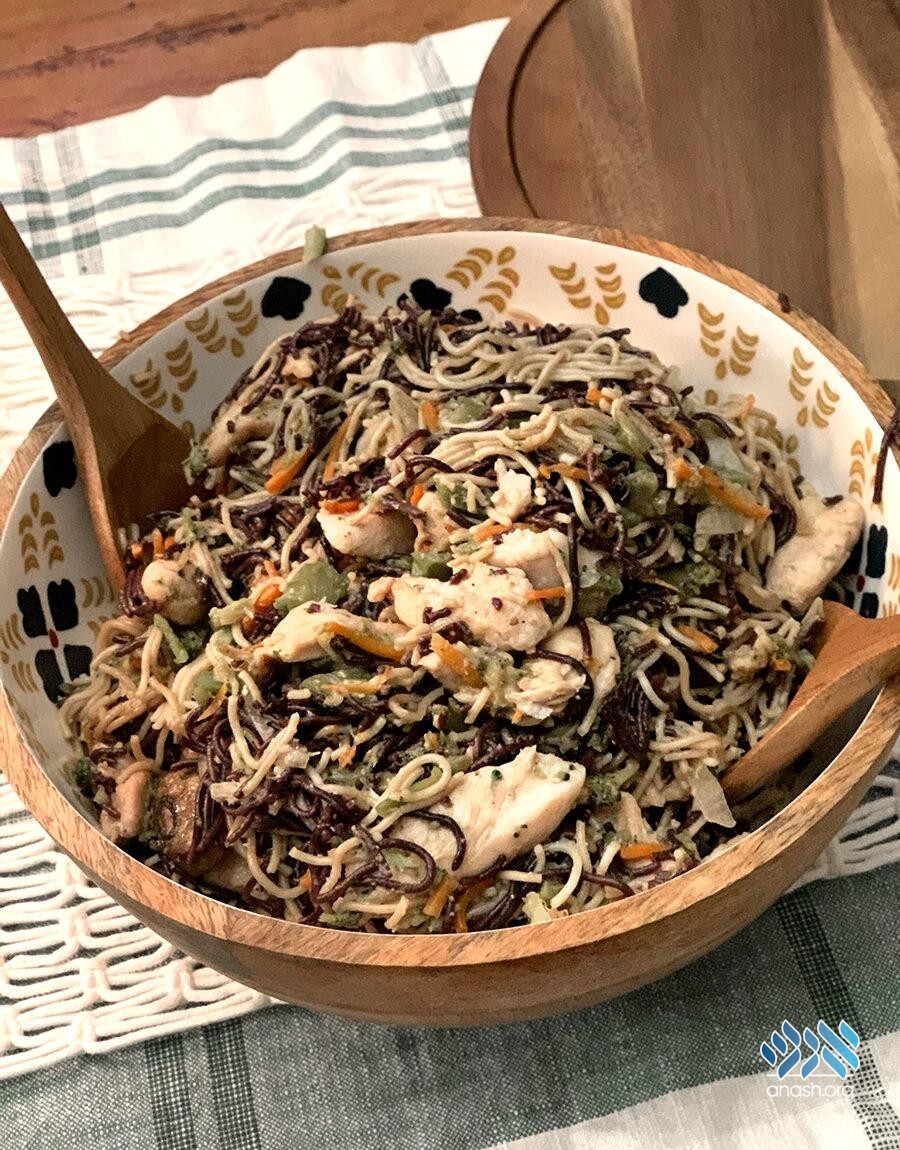 Sheet pan Latkes inspired from Fleishigs Magazine. This is brilliant for so many reasons! Firstly, I hate everything about frying, the smell, the time it takes etc.… in this recipe, you put 4 types of Latkes on one pan. Everyone gets to try and find a favorite and no frying! It was delicious by the way, and I got permission to share the recipe, enjoy.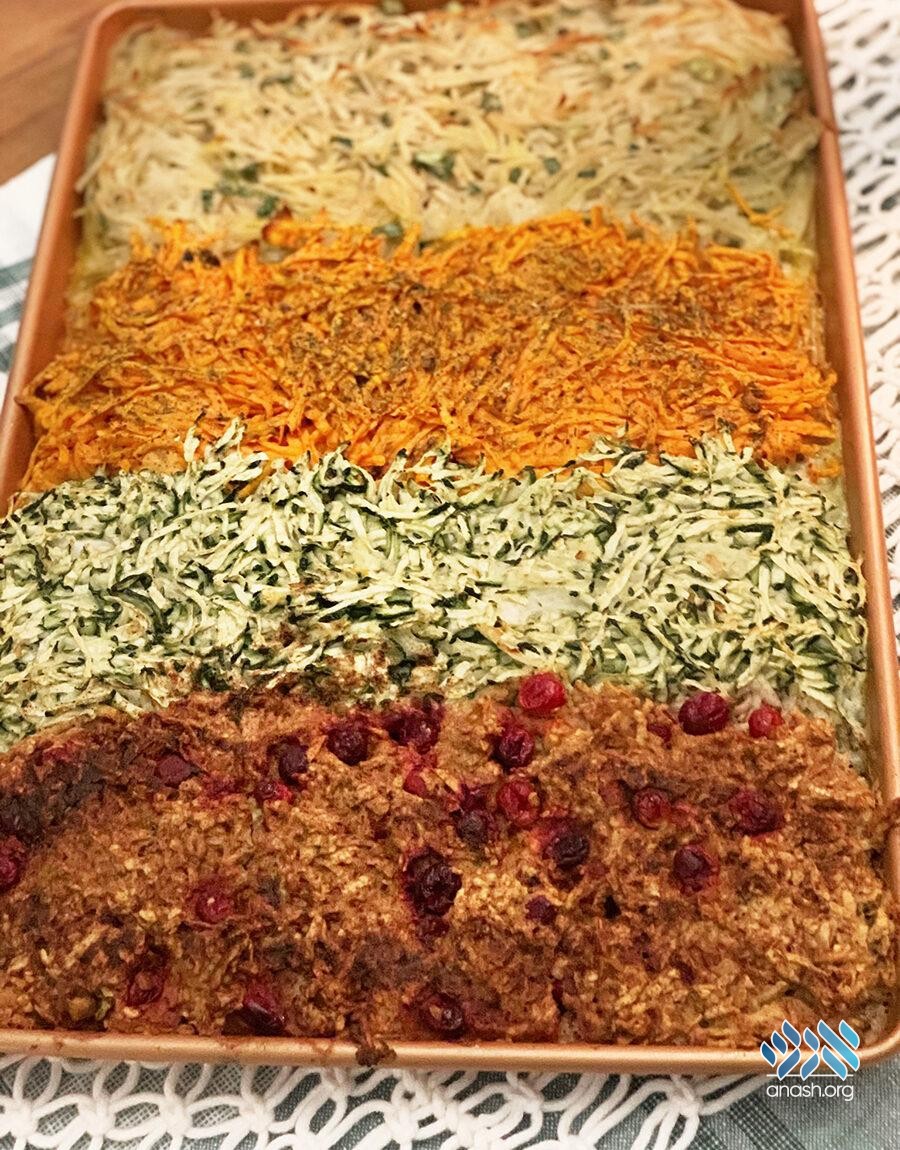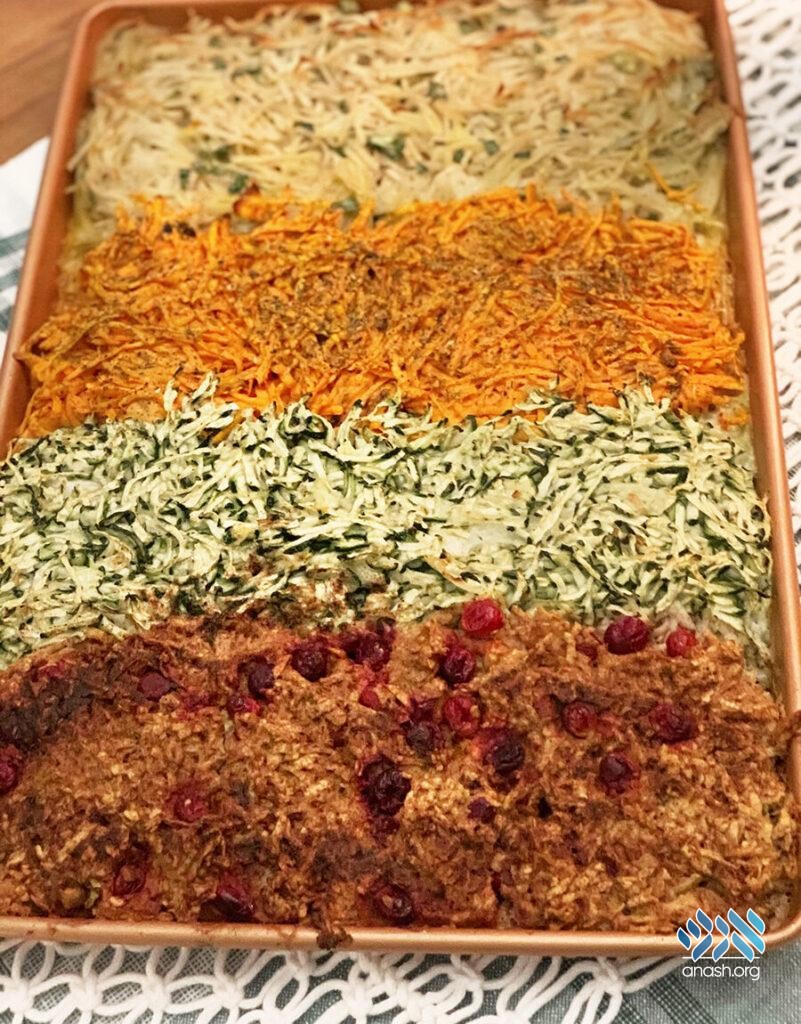 Sheet Pan Latkes
By Shifra Klein Editor and chief of Fleishigs Magazine
www.fleishigs.com
Serves: 20
Ingredients:
¾ cup vegetable oil (I used Avocado oil)
4 eggs
3 potatoes, grated
½ cup chopped scallions
2 sweet potatoes, grated
3 Granny Smith apples, grated
½ cup cranberries
3 zucchinis, grated
¼ cup grated onion
4 teaspoons kosher salt, divided
2 teaspoons cinnamon
½ teaspoon ground black pepper
2 teaspoons za'atar
Chopped chives (for garnish)

Directions:
Preheat oven to 425°F. Pour ½ cup oil onto sheet pan and preheat in the oven for ten minutes.
Prepare 4 medium bowls. Place one egg in each bowl.
Place potatoes, scallions, and 1 teaspoon kosher salt in the first bowl. Place sweet potatoes,1 teaspoon za'atar, and 1 teaspoon kosher salt in the second bowl. Place apples, cranberries, and 1 teaspoon cinnamon in a third bowl. Place zucchini, onion, remaining teaspoon salt, and black pepper in fourth bowl.
Mix ingredients in each bowl and carefully spoon in even strips lengthwise onto the baking tray with hot oil. Drizzle remaining oil over latkes and bake for forty minutes.
For an extra crunchy top, place pan under the broiler for 3-5 minutes.
Top remaining za'atar over sweet potato section and remaining cinnamon over apple section.
Serve warm.
Note: For even rows of flavored latkes, measure out precisely 2 ½ cups of each vegetable.
Gluten free donuts – I got the donut pans and baked them, as the recipe called for. They were good but not amazing. So, I am still on the hunt to find a really yummy GF donut recipe.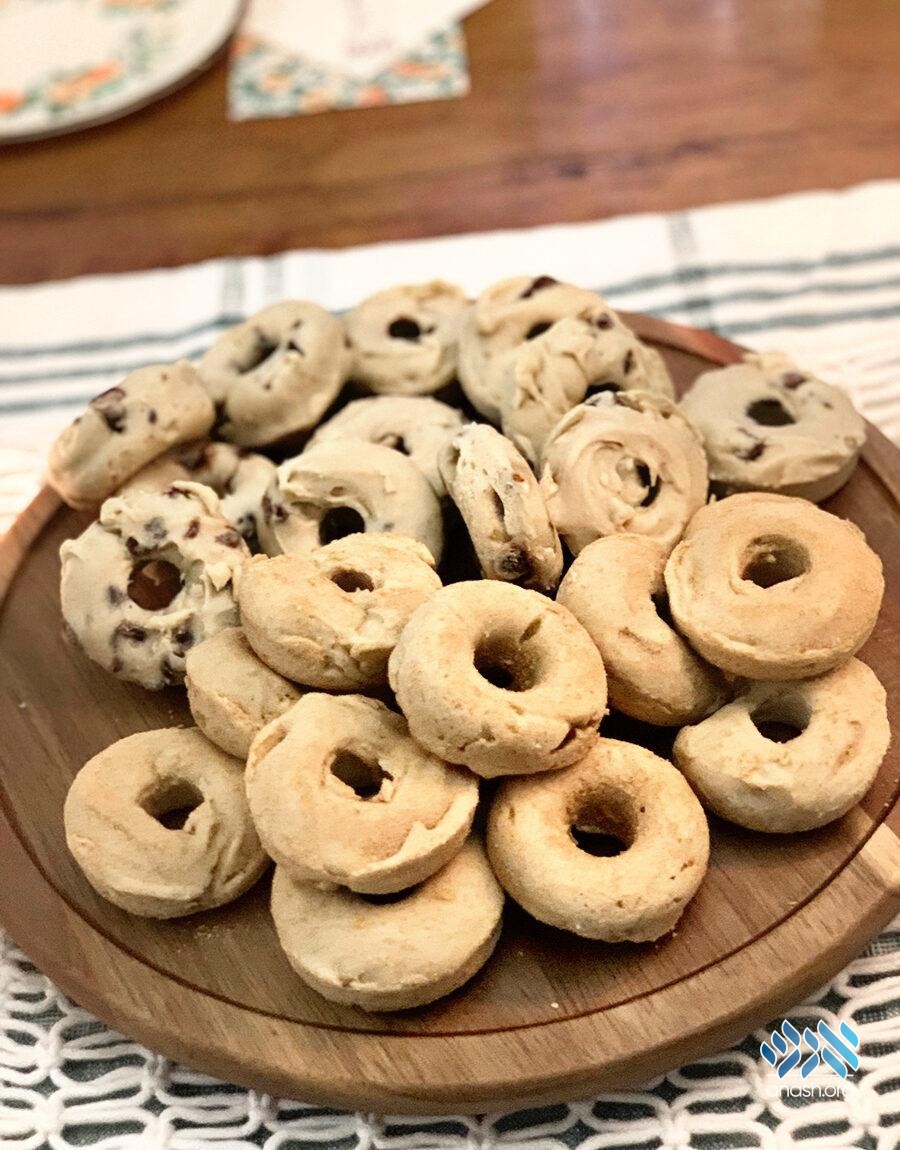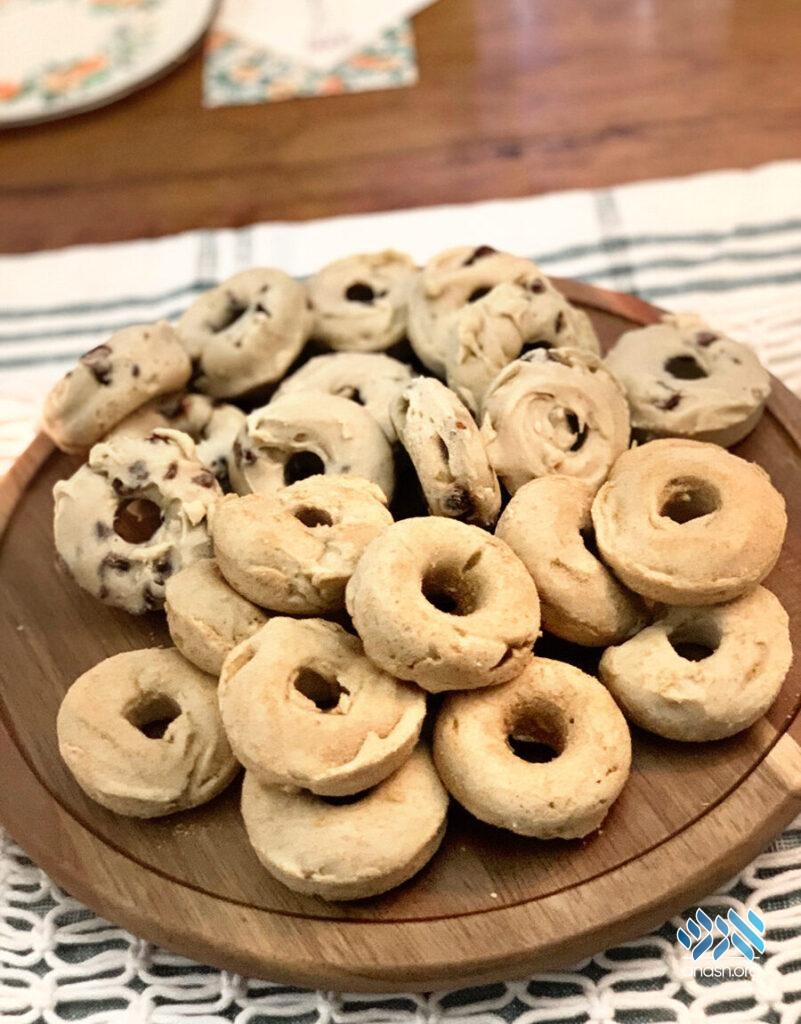 Yummy, creative, special and fun, but if you noticed there wasn't a million things and a ton of variety, which I find to be unnecessary and overkill.
When I started setting up I realized that I didn't have a tablecloth that worked… so I ran back to Target, they were sold out of all their tablecloths, so I improvised and got some table runners and made it work. Remember, perfection is not the goal and usually the best ideas come from having to improvise.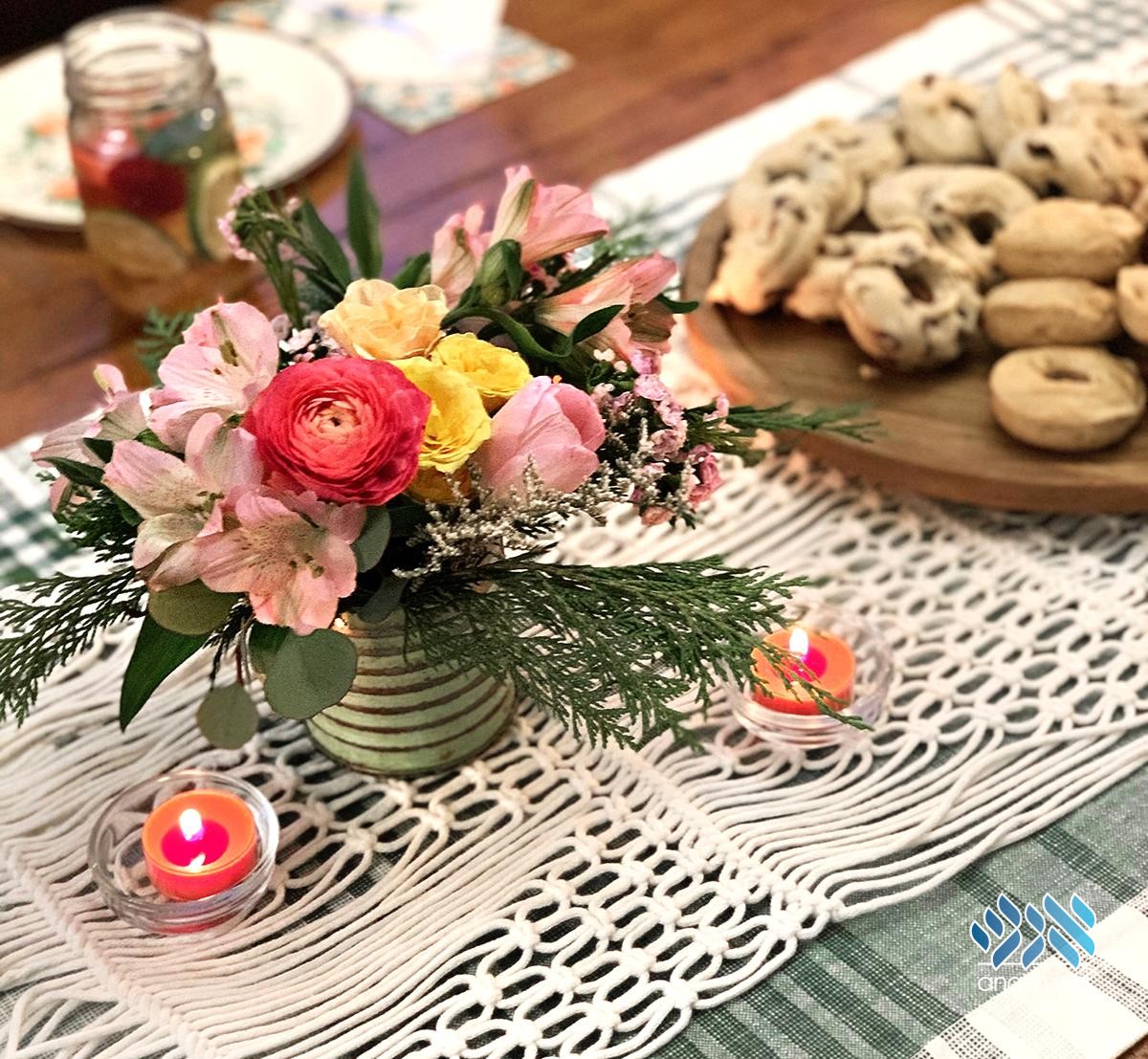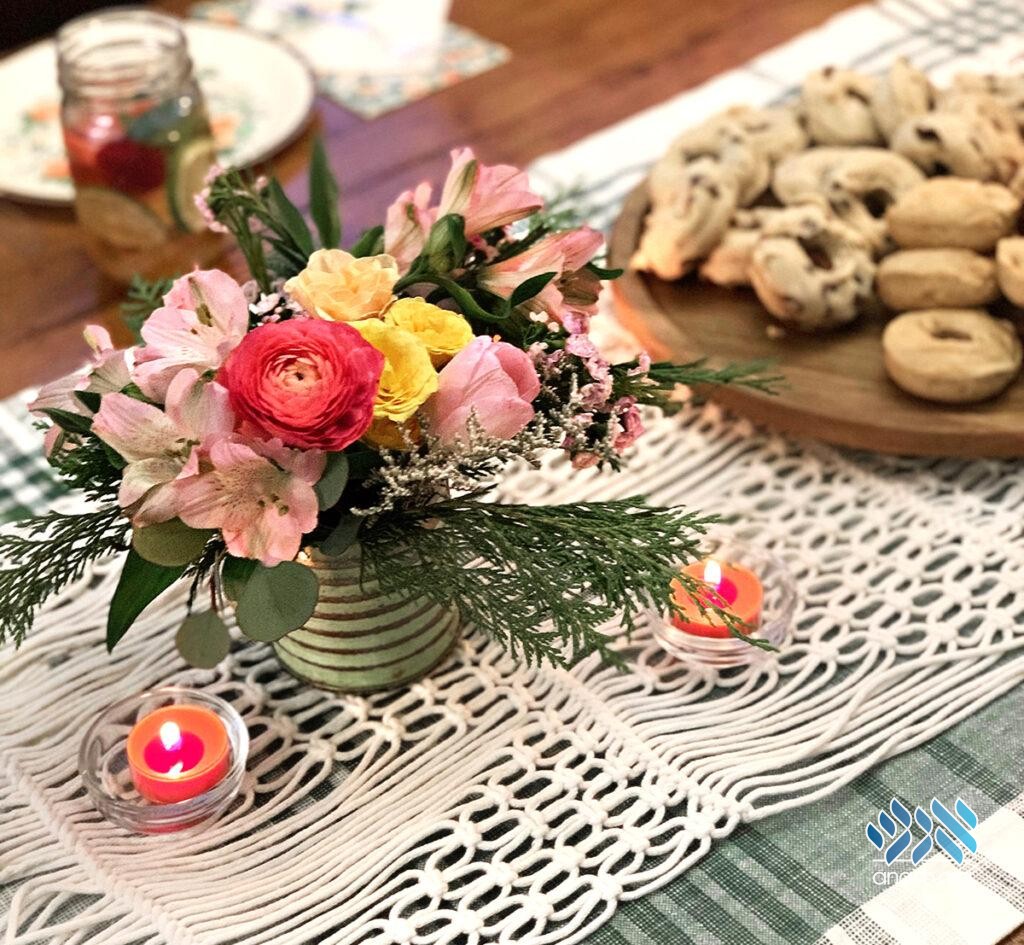 I set up an art corner where the kids could do some Chanukah projects. I had some velvet art and I got some Lucite plaques from plaques from www.coloritacrylic.com kids love them.
At the end of the party I did give out a small Chanukah present to the kids. Honestly, though gifts are not our family tradition, as we do Gelt, I do this is to make me happy. My love language is gifts. No, they don't need them, and yes, it's great to teach them to be happy without gifts, but it's also really fun so I use these special opportunities to spoil them a bit! 
I hope some of this was helpful and motivating to do something fun for your family!