As told to Anash.org by Rabbi Levi Garelik – Crown Heights Rov and Rabbi of the European Synagogue in Brussels, Belgium
In honor of Chof Av, the yahrtzeit of the Rebbe's father, Harav Levi Yitzchok Schneersohn, I would like to share with you two stories that pertain to my family and Chof Av.
It used to be that Shluchim were only allowed to visit the Rebbe once in two years. Even then they would have to ask for permission first.
My parents, Rabbi Gershon Mendel and Bassie Garelik went on shlichus to Milan, Italy, in the month of Kislev 5719/1958. When Pesach time came, a mere few months later, he already wanted to come to travel to New York to see the Rebbe. However, the Rebbe did not give him permission (the details are for a different time).
A few months later, Chof Av was approaching, and he couldn't hold himself back anymore. He sent the Rebbe a telegram that he yearns to come visit. This time the Rebbe agreed, on condition that a visa for his return is secured.
Following is the telegram that my father sent and the Rebbe reply.
It is dated י"ז מנחם אב תשי"ט and the Rebbe writes:
"באם בהסכמתו המלאה של זוגתו שתליט"א וויזת חזרה בטוחה בברכה" – חי"ק.
"If you have your wife's full consent and your return visa is guaranteed. With blessing" – the Rebbe's holy signature.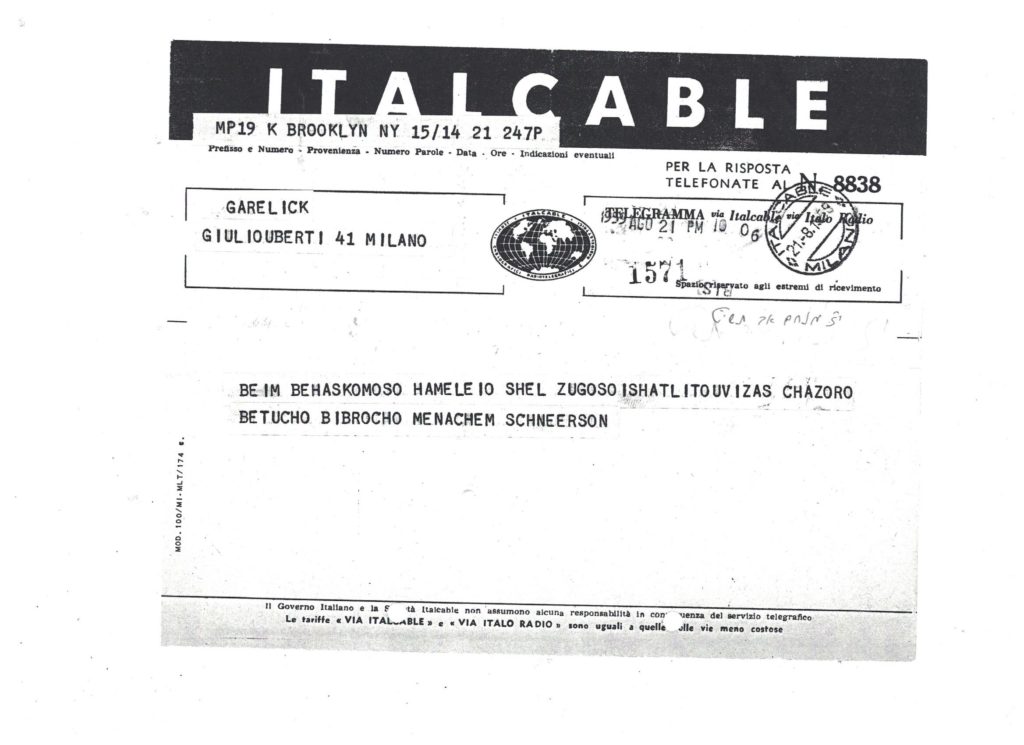 This was the first time my father traveled alone without my mother, so the Rebbe wanted to make sure that my mother was okay with it. As well, my father had a refugee passport, so the Rebbe wanted to ascertain that my father would not have any issues to return to Italy.
The second story occurred two years later, in Tammuz 5721/1961. I was born ten months earlier, and I was one of the first boys to be named Levi Yitzchok after the Rebbe's father. Rebbetzin Chana, the Rebbe's mother, was understandably very pleased with this. Since my father used to come to visit for Chof Av, he figured he would bring me along.
When he wrote to the Rebbe about this, he received the following telegram:
"יבוא בהצלחה נקודה. לקטן אין כדאית נסיעה כזו בברכה" – חי"ק.
The Rebbe gave his blessing that "He should come successfully. For the little one, a trip like this is not worthwhile."
From the above we can see how the Rebbe addressed every little detail in the life of Chassidim.