Four centuries after Jews first settled on the Caribbean island of Jamaica, and over a century after the community's last shul closed, a new Chabad House and the island's first-ever mikvah were dedicated with a celebratory event.
By Menachem Posner – Chabad.org
Jews have been living on the Caribbean island of Jamaica for well over 400 years. During the Spanish rule, they hid their Judaism, pretending to be Catholic out of fear of the Spanish Inquisition. After the British conquest of 1665, they were free to build synagogues, freely and openly practice their religion and teach it to their children.
The early Jews of Jamaica left behind several cemeteries scattered around the island, and records exist of synagogues that opened and closed as communities grew and shrank over the centuries. However, there is no evidence of there having ever been a purposely built mikvah on the island, leading researchers to assume that generations of Jamaican Jewish women immersed in the balmy Caribbean waters.
Until now.
On the final day of Chanukah, Jewish reggae blared, locally slaughtered kosher jerk chicken was grilled, and glasses were raised in toasts of l'chaim as the ribbon was cut at the Chabad House in memory of Raymond Doweck, which includes the luxurious Rose Doweck Mikvah.
"It was a breathtaking celebration, like a wedding!" says Or Regev, an Israeli businesswoman who lives on the island with her husband and three children. "I was so emotional that I could not stop crying all evening."
For families like the Regevs, Chabad of Jamaica, directed by Rabbi Yaakov and Mushkee Raskin in the tourist-rich Montego Bay, is a lifeline of Jewish connection, observance and celebration.
The Regevs, whose children are the same age as the Raskin children, participate in holiday events and other activities throughout the year and spend every Friday night with their Chabad family.
From now on, those Friday-night meals, which can include as many as 80 guests during the height of the winter tourist season, will be held in the Chabad House's spacious dining room, part of the five-story hilltop villa that has been expanded and renovated over the past few years.
In addition to the guests at Chabad House, the Raskins provide kosher take-out for visitors wishing to celebrate Shabbat in their hotels or homes, and the Kosher Hot Spot, located near the beach, provides quick Israeli-style fare all week long.
The Raskins arrived in Montego Bay in 2014—100 years after the community's synagogue had closed in 1914 due to lack of congregants.
Although never large, the original Jewish community of Montego Bay had been quite prestigious, and their spiritual leader, Kingston-born Rabbi Abraham Pereira Mendes (1825-1893), served in Montego Bay before accepting more prestigious posts in the United Kingdom and the United States.
The Raskins were warmly welcomed by local Jews, who were eager to see a resurgence of Jewish life and amenities, such as kosher food. One person with whom they made sure to contact was Raymond Doweck, who kept kosher while living in Kingston. The descendant of Syrian Jews, Doweck was a patron of Jewish life on the island and would often spend the High Holidays in South Florida, where he would worship at a Chabad House.
Unfortunately, Doweck fell ill before the Raskins landed and passed away several weeks later, but not before Rabbi Raskin had helped him into tefillin and prayed with him. The families kept in touch, and the new Chabad House has been dedicated in his honor by his niece Debbie and her husband, Michael Flacks.
"It was always Raymond's dream to have Chabad in Jamaica," says his brother, Albert Doweck. "And Raymond's own home became the first temporary home of Chabad in Jamaica."
In time, the Raskins rented a townhouse, but there was not enough room to accommodate the locals and visitors who began flocking there, especially during the high season, and they needed to rent hotel ballrooms and other temporary accommodations.
But it soon became clear that a new dedicated Chabad House was necessary to accommodate Chabad's growth.
Shul Dedicated in Honor of Rabbi Zushe Wilhelm
The search for a new home for Chabad was deeply personal for noted Torah scholar, Rabbi Zushe Wilhelm, father of Mushkee Raskin, who took an active interest in the work of his daughter and son-in-law on the island, and threw himself into assisting them in their efforts until his passing last year.
The new sanctuary, which is dedicated in his memory, will also house the community's new Torah scroll, one of 36 scrolls that had been completed this year at the International Conference of Chabad Lubavitch Emissaries (Kinus Hashluchim).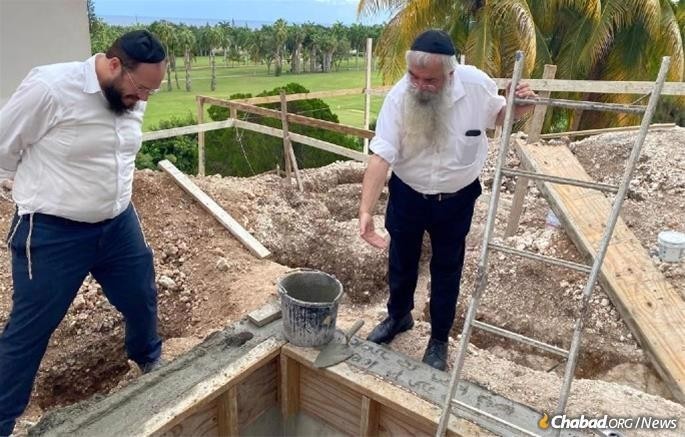 The opening festivities, in which the new Torah was joyously welcomed to the synagogue, also included an address by Deputy Prime Minister of Jamaica and the Minister of National Security, the Hon. Horace Chang.
He was also honored to light the shamash, the flame from which the giant menorah was then lit in honor of the final day of Chanukah.
Reflecting on the bright future of Judaism in their island community, Regev says: "Having Rabbi Raskin and Mushkee, we a Jewish community, we have a place to come and celebrate the Jewish holidays, we have friends!"
Reprinted with permission from Chabad.org.