President Trump commuted the sentence of Boaz Nachmani, A frum Jew from Florida. Nachmani had been sitting in prison since 2015.
His 11-Year-old son sent letters to the White-house begging the President to help his family.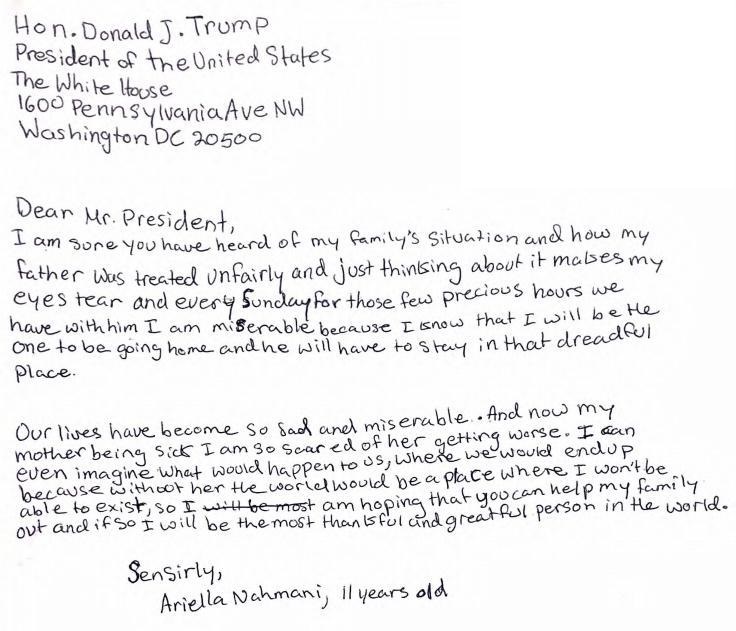 The white house released the following statement earlier today:
"Today, President Donald J. Trump commuted the prison sentence of Ronen Nahmani, an action strongly supported by many notable leaders from across the political spectrum, like Representatives Hakeem Jeffries and Mark Meadows.
Mr. Nahmani is a non-violent, first-time offender with no criminal history. He has five young children at home and his wife is suffering from terminal cancer. These extenuating circumstances underscore the urgency of his request for clemency.
Members of Congress and a broad cross-section of the legal community have expressed support for clemency for Mr. Nahmani. These include several distinguished senior Department of Justice officials, numerous prosecutors and judges, and many reputable legal scholars. Among his supporters are former United States Attorneys General Edwin Meese and Michael Mukasey, former Solicitor General Seth Waxman, former Senator Orrin Hatch, Senators Marco Rubio and Rand Paul, Representatives Mark Meadows, Matt Gaetz, Anthony Brown, Bradley Schneider, Darren Soto, Debbie Wasserman Schultz, Eliot Engel, Frederica Wilson, Hakeem Jeffries, Lois Frankel, Ted Lieu, Tom McClintock, and many others".
The Hamodia reported:
Rabbi Moshe Margaretten, director of the Tzedek Association, which advocates for prisoners and prison reform, told Hamodia, "It is a glorious day for a democratic society when someone given such a grossly unjust sentence is set free. We thank Hashem for his chassadim, and we thank President Trump for his sense of fairness."
"Chasdei Hashem, we are living in an age when we see open miracles," attorney Gary Apfel told Hamodia. "We are so grateful to President Trump for his great compassion in granting clemency to Boaz and relief to his wife and children. In reuniting this family under these tragic circumstances, the President has performed a true act of chessed, loving-kindness, which every Jew should appreciate and applaud."
Gary Apfel, lead attorney for Shalom Mordechai Rubashkin – the first person to have a sentence commuted by Trump – worked on this case with many of the same players as the Rubashkin case, including legal scholar Alan Dershowitz.
"This is a real case of pikuach nefesh, because there are children here whose mother is seriously ill with cancer and whose father would have been in prison, and in the event the mother were to have passed, would have been all alone," Dershowitz told Hamodia. "So what President Trump did was the right thing; he ought to be praised for saving lives and doing a mitzvah. This was a team effort involving lots of people, including Gary and many others who acted selflessly to bring about this pidyon shivuyim. And I think it will be an important part of President Trump's legacy that he did the right thing for the right reasons."