The coronavirus has many canceling trips to China. But what happens when you live there – and you are the rabbi? Rabbi Shimon Freundlich, shliach to Beijing, described the situation as he remains at his post.
By Yossi Krausz for Ami Magazine
The new coronavirus, COVID-19, has meant that people who had previously been planning to visit China have postponed their trip. But what happens when you live there—and you are the rabbi?
Rabbi Shimon Freundlich is the Chabad shliach in Beijing, and he is the last rabbi and shliach left in China after the outbreak of the coronavirus. His family left to New York soon after the initial closure of Hubei Province, and he remains at the Chabad House, tending to the local community. 
Ami reached him by phone this week. We asked him to describe the situation that he is seeing in Beijing.
"The virus seems to be contained outside of Hubei Province, and there have been no new reported cases in the major cities like Beijing and Shanghai. People are still taking precautions. You don't see anyone without a mask in the street. There is no traffic whatsoever. That is, there are cars, but they are far and few between.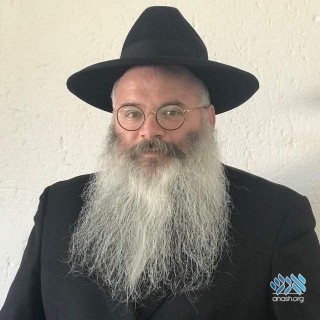 "I would say that every fifth store is open. Any of the stores that have imported products are seeing them slowly but surely dwindling off the shelves, and they are not getting in any new products."
Jewish life has slowed down, as well. "There is no chance of a minyan right now," he said. "There are a few Jews who come to shul on Shabbos. During the week, they call to find out if we have any kosher beef or chicken or other kosher products for sale, and they come to the Chabad House. I use that as an opportunity to put on tefillin with them. We schmooze for a while, as well. But there is nothing more than that."
He is still well-stocked with kosher food.
"Baruch Hashem, we are always stocked with food," he said. "I told my wife, 'If I finish this amount of food before this virus is over, we have a problem.' Because I have a ton of meat—literally a thousand kilos of meat—in the Chabad House freezer." But he said that there is no way to hold communal meals, because people are still very wary.
Rabbi Freundlich anticipated the shortage of masks and gloves that the virus would cause, and he managed to bring in shipments of the supplies before they ran out. Now he is supplying the employees of the park near the Chabad House, the Religious Affairs Department, and the local Jewish community with gloves and masks.
"This is a country of 1.3 billion people, and if you need a couple of masks a day, that is a huge amount," he said.
Rabbi Freundlich was also instrumental in getting a frum Jewish woman from Palo Alto out of Wuhan. She had been visiting her mother, who lives in Wuhan. He was able to get her on a US flight taking American citizens out of the quarantine zone. Then, when she was in quarantine in Canada, he helped arrange for her to receive kosher food while she was there.
Rabbi Freundlich said that there is one thing that Chabad of China does require from the Jewish communities of the world: financial support. "Chabad of China in general relies on tourists, tour groups, business people and kashrus supervision for funding. All of that has completely stopped. Our entire source of income has come to a screeching halt," he said.
Though Rabbi Freundlich sent his family to the US, he said that he felt that it was incumbent on him to stay. "I can't, in all conscience, leave a country without a rav. If something happens to anyone here—whether good or the opposite—I have to be here. It just isn't an option that there shouldn't be one Yid who makes Kiddush on Shabbos, that there shouldn't be one Yid who wishes another Yid good Shabbos in a country the size of China. And for me as a Lubavitcher, to leave a country without a shliach is not an option."
This wasn't a rash decision, he said: "I have been consulting medical professionals. I am in touch with the person who is responsible for reporting back to the Pentagon about the coronavirus. He is a close friend of mine. I am in close consultation with a dayan for daas Torah. I'm in close consultation with the head of United Family Healthcare."
He suggested that people thinking of coming to China should follow WHO guidelines and that anyone who is planning to travel to China should consult the hotel they would be staying at to find out what any local restrictions or conditions are. Rabbi Freundlich pointed out that in regular Jewish communities, Chabad is part of the community. In China, they are the community. And now, he alone remains to safeguard that.