Tell an Israeli he can't and he'll tell you he will! Last week, Tel Aviv's mayor announced a ban on tefillin stands outside the city's schools and the nation has risen like a lion.
By Anash.org reporter
For many 'secular' Israelis, laying tefillin is something that unfortunately goes by the wayside. For countless Jews, that changed last week when Tel Aviv's mayor Ron Huldai announced a ban on tefillin stands outside the city's schools, in an unprecedented and scandalous decision.
The reaction across the country has been reminiscent of countless episodes in our history when Torah was outlawed and the people pushed back.
The municipal's decision was condemned by parties and personalities across the country, both religious and secular. An irreligious media host attacked the decision, saying: "I heard the deputy mayor of Tel Aviv saying that they're banning stands outside schools. What type of stands? Tefillin stands of the wonderful Chabad who work with such ahavas Yisrael. What will happen to the children? They'll kidnap them and force them to do teshuva?"
When the decision first came out, a group of secular teenagers from south Tel Aviv staged a protest outside the Tel Aviv municipality, wearing tefillin and singing proudly. Most of the boys are not frum but feel close to Yiddishkeit and were disturbed by the ban.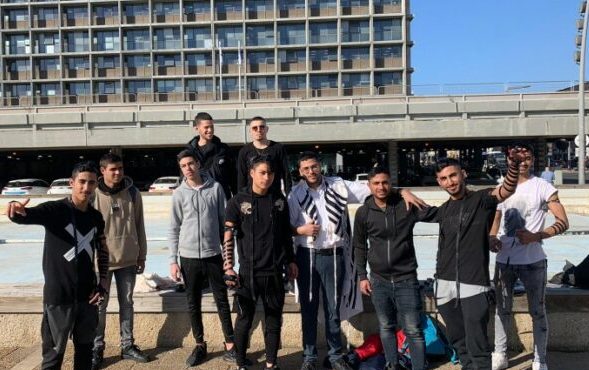 One of the teenagers who participated in the protest announced: "Although I'm a resident of Tel Aviv I'm a Jew before anything else and I believe in and love Hashem. No one is going to prevent me from fulfilling mitzvos."
Most notably, Israeli journalist Boaz Golan initiated 'Operation Ron,' named for Tel Aviv's mayor, encouraging people to lay tefillin and thousands have begun fulfilling the mitzvah in response, both in Israel and around the world.
Golan started his campaign by calling on mayors throughout Israel to set up tefillin stands in their respective cities and municipal squares. Many mayors took up his suggestion, including those of Haifa, Kiryat Ata, Kiryat Motzkin, Lod, Nof Hagalil, Petach Tikvah, Tzfat, Maalot, and Zichron Yaakov.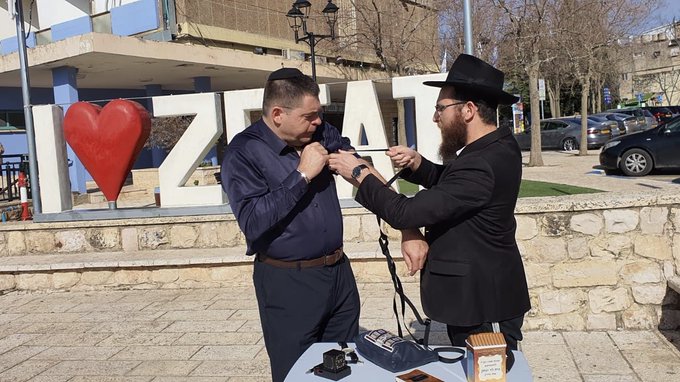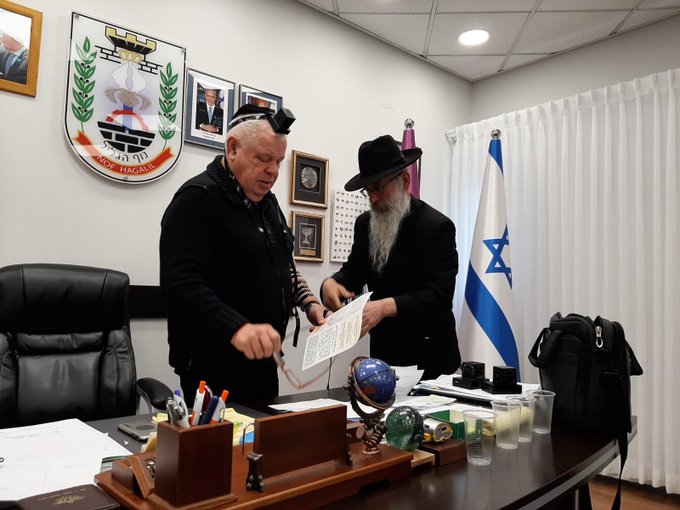 Moshe Bukai, an Israeli living in the US, posted a video of himself putting on tefillin, noting that he decided to put on tefillin after many years of not doing so:
Another Israeli sent Golan a message accompanied by a picture of him wearing tefillin, writing: "I wanted to express my great gratitude to you and Ron! I've been on an internal and personal journey for a long time already and I haven't put on tefillin in months. Thanks to you and the blessed Jewish activities you're carrying out, I've merited to put on tefillin again and it's done me so much good!"
Across Israel, people have woken up and been roused to demonstrate their opposition to the ban and their love for mitzvos.
Down in Eilat this weekend where members of the Likud party have gathered for a pre-election conference, stands were set up, encouraging participants to lay tefillin.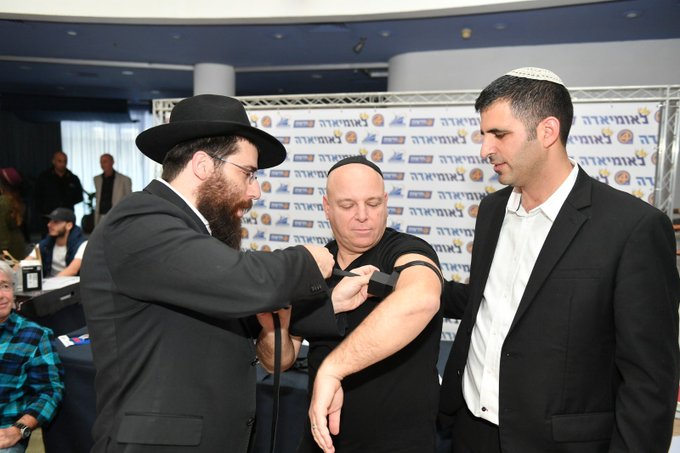 Way up north in Kiryat Shemona, Mayor Avichai Stern called on Jews in Israel and around the world to designate Chof Hey Shevat as World Tefillin Day and together with shliach Rabbi Yigal Tzippori, set up tefillin stands across the town. Dozens of passersby laid tefillin, some of whom hadn't put on since their Bar Mitzvah.
After the 50 plus years that Chabad has been engaged in the Rebbe's Mivtza Tefillin, it's exhilarating to witness the nation waking up and jumping on the mivtzoim bandwagon to tip the scale and bring the final geula.