Rabbi Mendy Hecht focused on the power of the flame at Forest Hill's Chanukah celebration.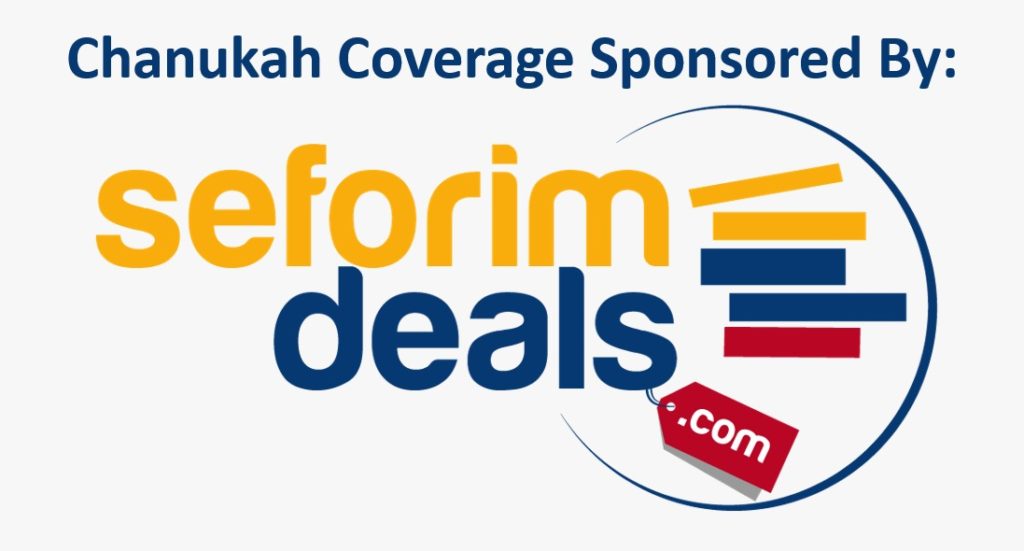 By Michael Perlman for Anash.org
A Forest Hills tradition is going strong! On the first night of Chanukah, hundreds of locals and visitors, ranging from children to seniors attended "Chanukah on the Park," a tradition since 2015. In front of Yellowstone Park, attendees embraced the miracle of Chanukah for the kindling of the first Chanukah candle on an 18-foot menorah symbolizing "Chai" (life). The festival has once again proven to be among the largest and most diverse citywide, initiating much light and unity.
The annual event is coordinated by Rabbi Mendy Hecht and Rebbetzin Chaya Hecht of Chabad of Forest Hills North (CFHN). The event began with Adam The Escape Artist's magic show, a major attraction for the children. DJ Jordan made a comeback with upbeat Jewish music including traditional and modern Chanukah tunes, and attendees danced with dreidel mascots and Chanukah clowns, even forming a conga line. A variety of 500 donuts included chocolate, vanilla, custard, and traditional jelly donuts, which symbolized the tradition of fried foods in light of the miracle of the burning oil lamps in Jerusalem's Holy Temple. Chanukah menorahs and illuminated dreidel rings were distributed.
When the highly anticipated FDNY Tower Ladder 135 fire truck made its arrival, Rabbi Hecht was elevated on a cherry picker. With the lighting of the first candle, it symbolizes "the power of one." Rabbi Hecht asked what the menorah and one light teaches. "The candle and the flame teach us about love and holiness when the shamash candle touches another wick. It becomes a shining light. One light can light an infinite number of other flames and not lose anything. This is how it is with love, since we can give and not run out of love. When we help someone and do a mitzvah, we are lighting another one's soul and flame."
Chanukah is a time to view one another as flames rather than wicks. "Wicks come in different shapes, colors, and sizes, but the flame is important as bright, warm, and always shining." Rabbi Hecht advised everyone to look at the person to their right and left. "We are all flames and united, so light your friend's flame now. Wish them a happy Chanukah and a year of happiness and health."
He advised everyone to be mindful at all times, especially in the context of anti-Semitic attacks including a most recent in Jersey City. He said, "We are each a candle, a flame, and all it takes is one bright light to make a dark room shine, and one bright light for a good deed, an act of love, a kind word, a helping hand, a smile, and hug. See the flame and light in each person. Let's all be one bright light and flood the world with light."
Rabbi Hecht and the crowd sang the high-spirited blessings in collaboration with Chabad member Philippe Heilberg, who also co-sponsored the event with Friends of Chabad of FHN. After the menorah's bulbs were replaced with canisters with oil and wicks, the menorah was kindled with a torch, beginning with the "Shamash," the central candle used to light the other candles. When the cherry picker reached an over 30-foot elevation, a countdown led to Rabbi Hecht's "Grand Chanukah Gelt (chocolate coin) Drop" in the thousands, and also making landfall was the new addition of miniature orange parachutes filled with dreidels. Another addition was a screen which showed the crowd live, besides a video segment of Chanukah lights.
"We have a four-year history of working with the FDNY to provide their truck and cherry picker, and we are very thankful," said Rabbi Hecht. CFHN was founded in 2012 and achieved much growth. "We are in our eighth year, which can be compared to the eight branches of the menorah."
Lauren Ascher Rubenstein attended with her family. She said, "It was so wonderful to share the first night of Hanukkah with the community, giving us a shared identity. My toddler was so captivated by all the excitement! Traditions are something we look forward to, since they make us feel more connected to those around us. It's a form of continuity of great customs, values, and culture from one generation to another."
Karen Bass, who attended with her husband Leon, said "Seeing all my neighbors and the children enjoying themselves and building a sense of community is what Chanukah is all about."
"Chanukah teaches that through our actions, we have the ability to shed light onto the world," said Sheryl Fetik. "I observed adults and children enjoying the music, dancing, the menorah lighting, and the Chanukah gelt that showered onto the crowd. A big thank you should also go to the NYPD and the FDNY for making everyone feel safe." The event was also made possible in partnership with NYC Parks, the 112th Precinct, and Counter Terrorism Units.
As Queens BP candidate, Elizabeth Crowley pledged her support. "In the state of affairs, it is unfortunate that Jewish people have to be worried about anti-Semitism, which is real and unfortunately growing. I would promise to create a special task force with monthly meetings with religious leaders, community organizations, and elected officials to make sure that we can stem anti-Semitism and build tolerance, especially among our kids."
Howard Pollack represented speaker of City Council Speaker Corey Johnson. "Chanukah is a celebration of freedom inspired by the Maccabean has inspired faith, hope, and coverage even in the darkest of times. It reminds us that it is okay to hope for a better tomorrow and always strive to seek hope in times of ultimate despair."
Continuing to the spread the light over Chanukah, CFHN will light the menorah in front of Yellowstone Park nightly at 6:30, and on Friday will be a Shabbat Chanukah dinner where guests can RSVP online. Gifts and treats for children will be offered. Rabbi Hecht said, "We will be visiting our young and elders including the home-bound and those in nursing homes and hospitals to further the light of Chanukah with menorah kits, dreidels, donuts, and Chanukah gelt. Also say hi to our menorah car when you see it and #sharethelights and #chabadoffhn with you in the photo at a menorah lighting at home or at an event, or even receiving your menorah kit from us."