Thirty-three years ago, when Hong Kong was still a British protectorate without a permanent Chabad-Lubavitch representative there or in any Asian port, a Jewish business traveler flying into the region had to come with a suitcase filled with canned goods and cold cuts in order to keep kosher, and Jewish professionals on temporary work assignment had nary a chance of an uplifting Jewish experience.
Then, in 1986, Rabbi Mordechai and Goldie Avtzon established Chabad-Lubavitch of Hong Kong, as the first Chabad outpost in the Far East, and things began to change. One by one, Chabad centers were added to the Asian landscape, in Thailand, Greater China, Japan, South Korea and Vietnam to name a few, eventually dotting the vast region with havens bustling with Jewish activity and accommodation.
Three decades into the Avtzons' work serving the Hong Kong Jewish community, they're still growing. Just before Yom Kippur this year, Rabbi Chaim and Menuchy Birnhack packed their bags and relocated from Israel to Hong Kong, where they will help serve the Hong Kong Jewish community as the third emissary couple in the district. The young couple will oversee the local branch of Chabad Young Professionals, focused on Jews in their twenties and thirties, and help lead the popular JUDA Hebrew School of the Arts, a hands-on, experiential afternoon program for children they hope to continue expanding. They also will be instrumental in the launching of a Hong Kong chapter of CTeen, the Chabad Teen Network.
Between temporary and permanent residents, Hong Kong is home to an estimated 4,000-5,000 Jews of all ages from around the globe. The World City also draws thousands of Jewish tourists each year.
Avtzon said he was impressed with the Birnhacks' willingness to take the assignment in a locale facing ongoing and sometimes violent political unrest. Regarding the protests against the government, though, Avtzon said "it hasn't turned Hong Kong into a dangerous place unless you insert yourself into the chaos. It's not aimed at the Jews, but it affects the Jews as much as anyone else."
Reinvigorating Jewish Hong Kong
Avtzon first visited Hong Kong as a rabbinical student in 1985. Shortly thereafter he got married, and the next year the Avtzons were sent to Hong Kong by the Rebbe, to settle permanently in what was then a British protectorate, which reverted to Chinese sovereignty in 1997. Under the banner of Lubavitch in the Far East (L.I.F.E.), the couple got to work.
Community member and businessman Adam Greenfield has been watching the growth of Jewish activity in the region over the years, including the recent arrival of the new emissaries. He calls the Avtzons the force that helped reactivate the Jewish community throughout Asia and Hong Kong.
"Rabbi Avtzon and his wife helped spark a resurgence of Judaism in Hong Kong, and that spark has spread to many corners of Asia to support the local communities, tourists and business travelers everywhere in the region," Greenfield told Chabad.org. "These Chabad Houses provide a place for Jews to feel at home in lands that are so foreign in so many ways."
Birnhack, now settled in with his wife and 3-month-old son, Menachem Mendel, is taking to the assignment with an approach and philosophy that appears custom-fit for the job.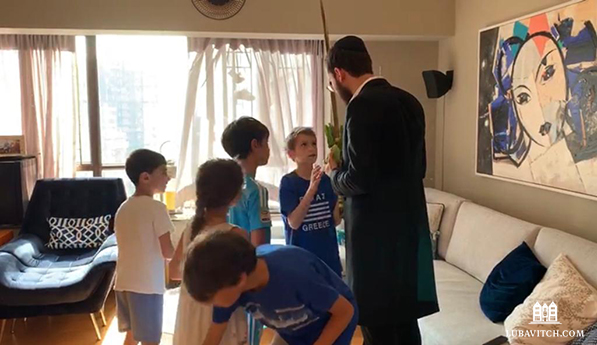 In an apt analogy for the challenge before him—bringing Jewish practice to a career-driven audience of young professionals Avtzon referred to as "vulnerable to assimilation," Birnhack shared:
"The great Chassidic master, Rabbi Levi Yitzchak of Berditchev, once raised his eyes heavenward and proclaimed, 'Master of the Universe, You created this world in a way that deeply conceals Your greatness in the tiny Hebrew letters that fill large-sized books that are only understood by scholars, yet all things mundane and material are publicly and enticingly displayed and easily accessible to everyone. Had you only switched—done the opposite—everything in this world would be so much better.' "
"As much as this was true in the Berditchever Rebbe's days, it is 1,000 more times more relevant in our times, when everything imaginable—the permitted and the forbidden—are at one's fingertips or at the end of a short stroll," Birnhack asserted. "What Chabad emissaries do all around the globe—and what we plan to do—is extract knowledge and understanding and love of the Creator from our holy books filled with those tiny Hebrew letters, and attempt to present them in a most interesting, attractive and pleasing manner."
Serving a Diverse Jewish Community
Today, more than 40 Chabad emissary families serve Jews throughout the continent. Whether local Jews or the throngs of Jewish businesspeople, Israeli backpackers or international tourists, from India to China, Japan, Korea, Thailand, Vietnam, Cambodia, Laos, Singapore and Nepal, there is a Chabad center for them. Between them, they offer everything from crisis relief to Hebrew school and bar and bas mitzvah classes, Torah education for adults and children, kosher food and Shabbat meals by the thousands.
In Hong Kong itself, the range of offerings include the Avtzons' center and a Chabad center established in 2008 in the heavily visited Kowloon district that has been co-directed since 2017 by Rabbi Yisroel and Menucha Lieberman. The couple are actively catering to the needs of tourists, in addition to the local community. There is also the independent Carmel Jewish day school, spearheaded by the Avtzons early in their tenure with support from others in the community, that serves to attract and keep Jewish families in Hong Kong.
At a gala dinner celebrating 25 years of transformative work in the region, a story was told by a widow from Venezuela living in Hong Kong that sums up the essence of the work: the personal care of each and every Jew, wherever they may be found.
Mary Kamhazi, who remains in close contact with the rabbi and his wife, recalled earlier times when her husband, Cholomo Kamhazi, was alive.
Upon receiving a Living Legacy Memorial Tribute with her children in honor of her husband at the dinner, she shared how Avtzon would survey the number of Jewish men in the Hong Kong hotel where services were held at the time to see if there were enough to satisfy a quorum for prayer services.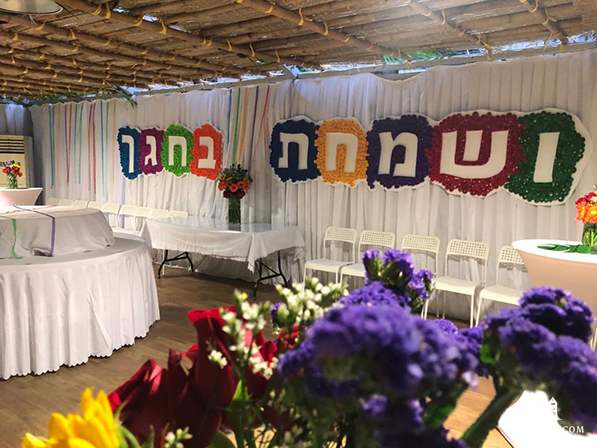 "He used to call my husband every morning," she said. Although attending a minyan was not high on his priority list, he began to learn with the rabbi.
"It changed him; he became much more committed," she shared. "He was very happy."
Greenfield, upon reflection, said he can only hope for more of the same positivity, warmth and spiritual growth in the community in the future.
"The Hong Kong Jewish community—a diverse community with people from all over the globe—along with its community leaders, is one of the most amazing I have experienced," he said. "Community members not only support each other, but establish unbreakable relationships that last long after people move on. In the tradition of Chabad emissaries and the amazing work they do, I look forward to seeing the community flourish for many years to come."