By Ashira Weiss – Lubavitch.com
It is known as the birthplace of the Hippie Movement (and counts some well-known Jewish hippies in its history), and on Sunday, the Haight Ashbury district of San Francisco celebrated the opening of its first permanent Chabad center. Chabad of Cole Valley is a $2.2 million project in its first phase, with more to come.
The Cole Valley, a quiet neighborhood with Victorian homes and cozy coffee shops in The Upper Haight is geographically in the center of San Francisco, yet removed from the big city bustle. Residents tout it as a 'family-friendly community with a village feel." 
Rabbi Nosson and Chaya Potash moved to Cole Valley in January 2011 shortly after their marriage. Chaya grew up in the city; her parents direct the Richmond Torah Center Chabad just a few miles from The Haight. "We heard that this neighborhood was Jewishly underserved so we jumped in," says Rabbi Nosson.
Katherine Roberts has lived in The Haight for twenty years. Raised with a strong Jewish identity, she would commute on public transit over an hour across town to a neo-Hassidic temple. Before Rosh Hashanah seven years ago, she saw a sign in a local coffee shop advertising services in the neighborhood. "Everyone is invited, please stop by," it read. She was "curious enough to check it out."
The Potashes held services in their one-bedroom apartment, and following lunch they all headed to the Golden Gate Park for the tashlich ceremony. The rabbi blew his shofar in the park, which drew other Jews including a friend of Katherine's who happened to be passing by. "I thought this was a really interesting way to celebrate Judaism," she shared with Lubavitch.com, and though Katherine has ideological differences with Chabad, she participates at its celebrations and some of its services. She is enthusiastic in her support of Chabad's work.
"I never knew there were other Jews living here," she says. Potash reckons there are in fact, about 2,000 Jews within two square-miles of his home. Katherine credits the Potashes for having introduced her to many Jewish neighbors who have since become friends. "They've created connections between Jews in the neighborhood. I wouldn't have known there was such a strong Jewish community in The Haight if not for them coming and spotlighting it," she says.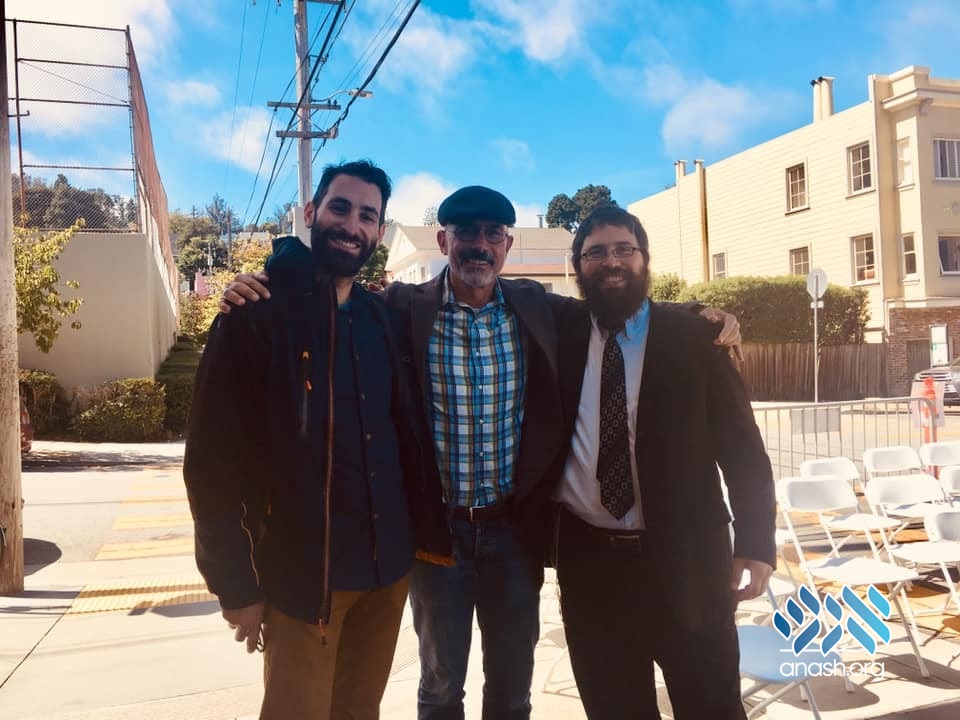 On arrival in The Haight Rabbi Potash noticed the sense of community and says it has carried through into the Jewish community. He hopes it will increase with the new center. "Jews around the neighborhood, even if not engaged with Chabad, are excited to have a Jewish center here," he says. One man he met on the street told him, "I can't believe that our neighborhood will have a Jewish center. It's so exciting."
The new center is the former Jubilee preschool where Rabbi Nosson and Chaya held their first children's club after arriving in Cole Valley eight years ago. In response to requests from Jewish parents with children in the Grattan Elementary School across the street the Potashes had resolved to start an afterschool program and looked for an appropriate venue. They rented the preschool classrooms and once a week, Rabbi Nosson and Chaya would pick up the children from Grattan and walk across the street to the preschool for their Shabbat Club afterschool program.
The Potashes meanwhile had outgrown their original apartment and five years ago the family moved to a two-bedroom. They could only seat up to forty people at their Fourth Friday Shabbat Dinners and Second Saturday Services and Kiddush so they would hold classes, children's clubs, CTeen meetings and holiday events at local playgrounds or rented event spaces.
They wished for a bigger place, but in a prohibitivly expensive San Francisco real estate market, it seemed an unrealistic dream.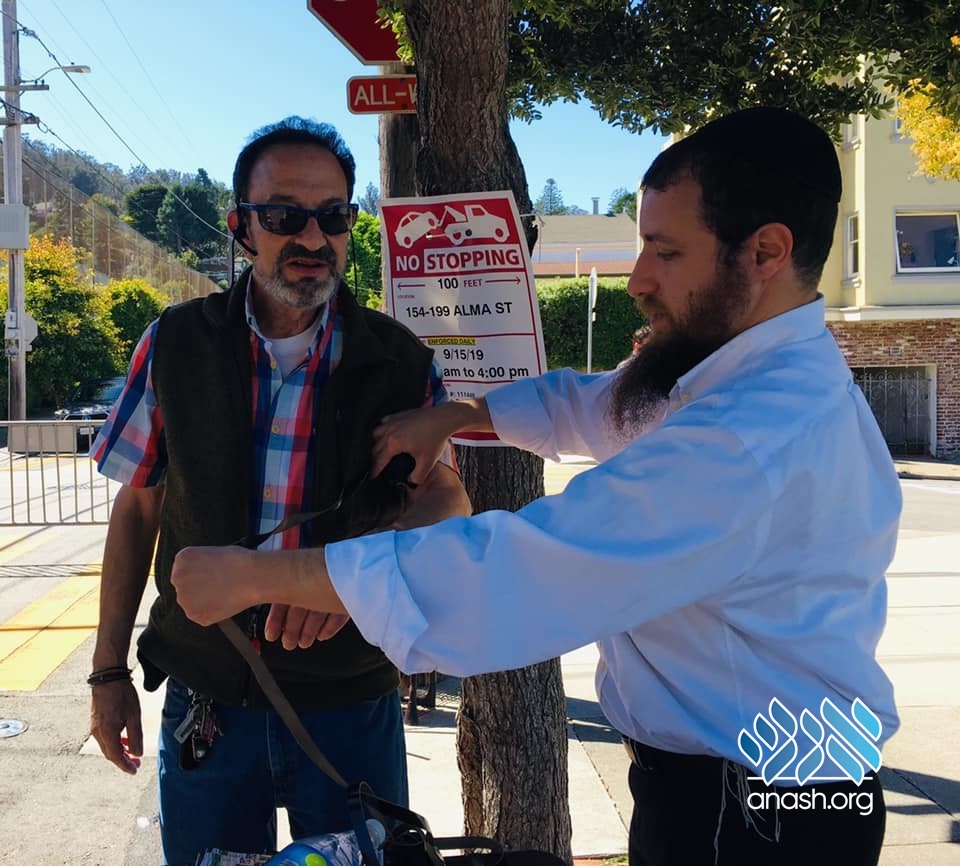 Then Jubilee's preschool director, Virginia Young contacted Rabbi Nosson last year and told him that she's closing the preschool after the 2018/19 academic year. Would he like to buy the building? "It was a miracle," both Potash and Katherine asserted.
In a grassroots effort, over 300 mostly local people have pitched in to help Chabad raise money towards the down payment on the $2 million dollar property and the $170,000 needed for what the rabbi calls "phase one" of refurbishment.
The Potashes now have a three-bedroom living quarters, Chaya has opened a small preschool, and the facility boasts an event space. The garage has been repurposed as a classroom and synagogue. A communal kitchen is a boost for the Potashes who provide food and friendship to over 150 Jewish seniors living in retirement homes in the area as part of their Community for Jewish Seniors program.
They anticipate moving into phase two within the next five years, adding another two floors with three preschool classrooms, a large event space, and a larger synagogue and separate communal lounge.
With UCSF Hospital six blocks away, the Potashes frequently host people who have traveled from around the world to be with family members who come for medical treatment. In phase two, they will build a Bikur Cholim hospitality suite so they can provide comfortable hospitality for these guests.
On Sunday 250 locals, including city and state officials gathered on Shrader Street outside Chabad. The lively block party and grand opening included a shofar factor, honey-making demonstration, bouncy house and refreshments.
State Senator Scott Weiner presented the Potashes with a State Resolution congratulating the community on this milestone and commending Chabad's "generosity of spirit and commitment to beneficial community service." San francisco Mayor London Breed addressed the crowd, "Today is an incredible milestone celebrating the vision you had to look for a bigger place. This is a space that brings people together, and honors community and tradition. This is what makes our city and our country a better place."
"Having a local space for Jewish people to gather is a benefit for Haight Ashbury and also lets people know that we are an established presence in the neighborhood," says Rabbi Nosson.