One of the most fascinating stories of Holocaust heroism is that of Japanese diplomat Chiune Sugihara. He was the Japanese Vice Consul to Lithuania, stationed in Kovno (Kaunus) right before the Nazis entered that country in the spring of 5701/1941. He defied orders from his superiors and issued thousands of transit visas to his home country of Japan. That allowed anybody holding that precious piece of paper to leave Soviet-held Lithuania and travel to Japan through the East. Leaving Lithuania meant being saved from the Nazi invasion and murder.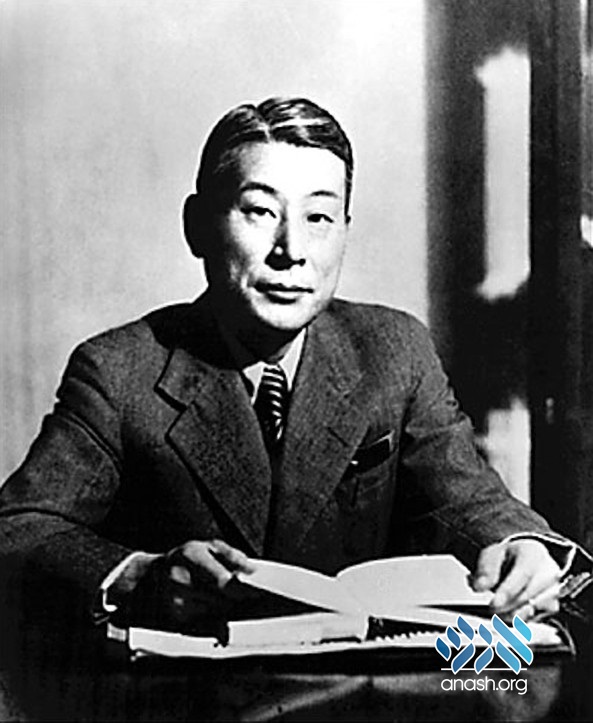 When he returned to Japan, Chiune Sugihara lost his position and could never work for the government again. But he was happy that he defied his government and saved that many people.
The largest group of Jews he saved were hundreds of Mirrer Yeshiva students. While a smaller group of students, were the group of tmimim – many of them from the yeshiva in Otwock, Poland – that managed to get to Vilna before the Nazi invasion.
One of those tmimim was Reb Shimon Goldman, a"h, who left his family in Shedlitz (Siedlice) Poland and crossed the border to Lithuania. There he joined the tmimim in Vilna, and managed to get a precious visa from Sugihara to Japan and then to Shanghai, where he spent the war years until 5706/1946. His entire family was ultimately wiped out. He published his story in a book entitled From Shedlitz to Safety. He passed away in 5777/2016.
Now his son, South African shliach Rabbi Yossy Goldman, finally got a chance to say thank you to Sugihara's son. Sugihara's son, Nobuki, met on Friday with Reb Shimon's son and grandson, Rabbis Yossy and Yochanan Goldman in Philadelphia. The historic meeting happened at Shofuso, the Japanese House and Gardens, with a tea ceremony symbolizing friendship.
Neither one of them knew much about the history of their fathers. Sugihara only found out as a teenager, when the elder Sugihara was honored by the Israeli Embassy in Tokyo. His son said he never wanted accolades for what he had done. Rabbi Yossy Goldman also found out later in life. He calls Sugihara a hero and has been waiting a long time to say thank you. He has been honored many times – including posthumously – over the years.
"I've been looking forward for many years now to be able to say thank you in person to this gentleman for what his father did. I would not be here. My children, my grandchildren would not be here. My father was the one sole survivor of his entire family from Poland," Rabbi Yossy Goldman told Philadelphia's 6ABC.
His son Rabbi Yochanan Goldman is the Rabbi at the historic Bnei Abraham – Chabad shul, and shliach to Center City, Philadelphia. Sunday evening a large gala dinner dubbed "From Kovno to Kobe," honoring Rabbi Yossy Goldman and Mr. Nobuki Sugihara, will take place. Follow Anash.org for further details and an in-depth report.