Prime Minister Benjamin Netanyahu's efforts to carry on after a decade in office with a historic victory in Tuesday's election, and to be tasked with forming a government for the sixth time, remained up in the air late on Tuesday, after exit polls predicted a stalemate.
The final unofficial results were only expected on Wednesday afternoon, but according to exit polls on all three channels, neither Netanyahu nor Gantz had a clear path to a coalition.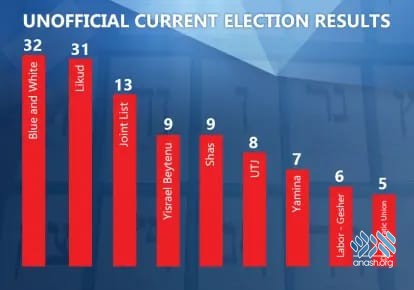 Blue and White: 32
Likud: 31
Joint List: 13
Shas: 9
United Torah Judaism: 8
Yamina: 7
Labor: 6
Democratic Camp: 5
Left-wing bloc: 56
Right-wing bloc: 55
Yisrael Beytenu: 9
These results are not final as the military and overseas ballots have yet to counted.