The Gedaliah Society, in conjunction with Dr. Rosen has published findings based on responses from 2000+ community members. In addition, they are working to open effective means of communication between hospitalized patients and their families.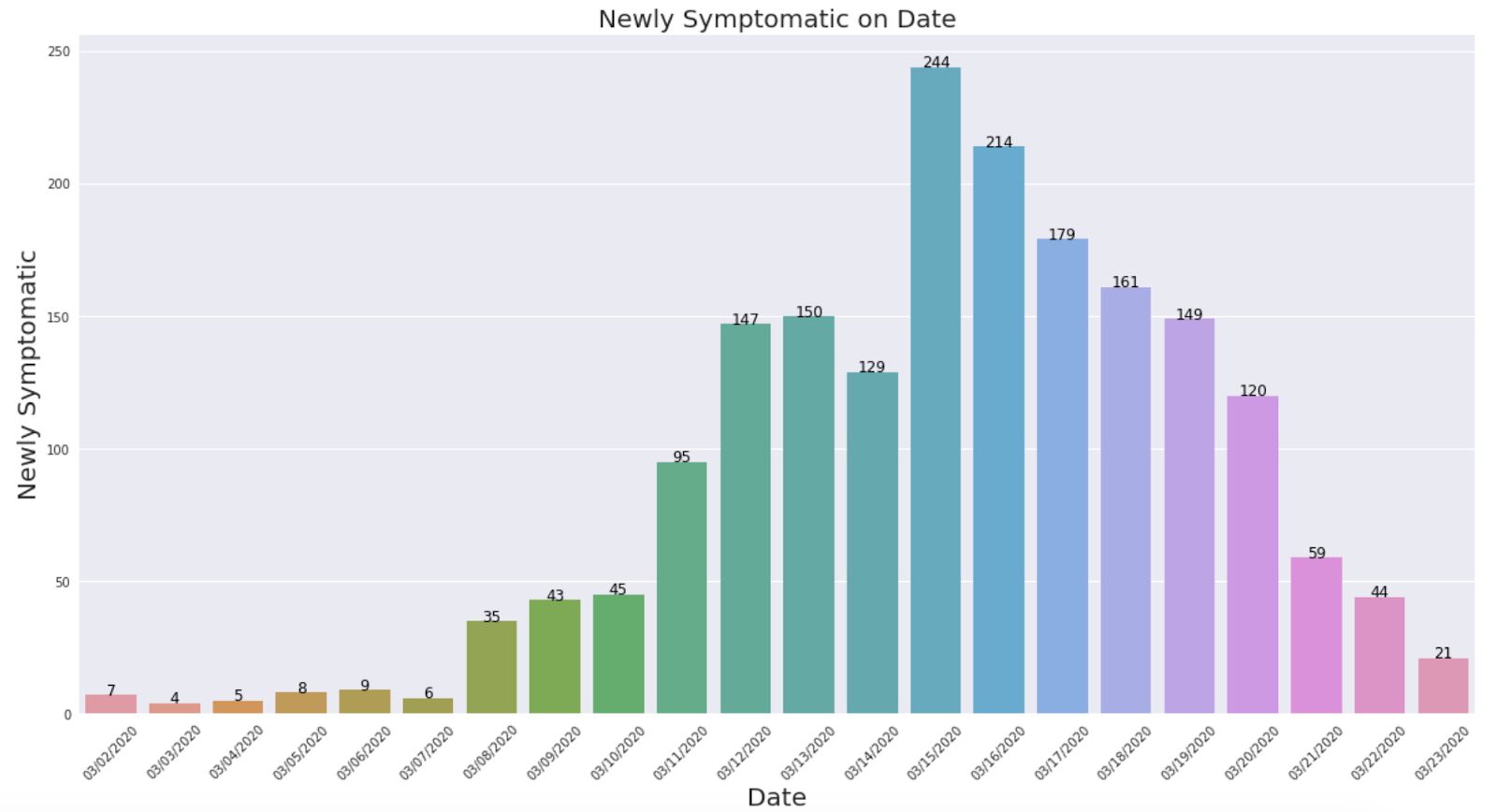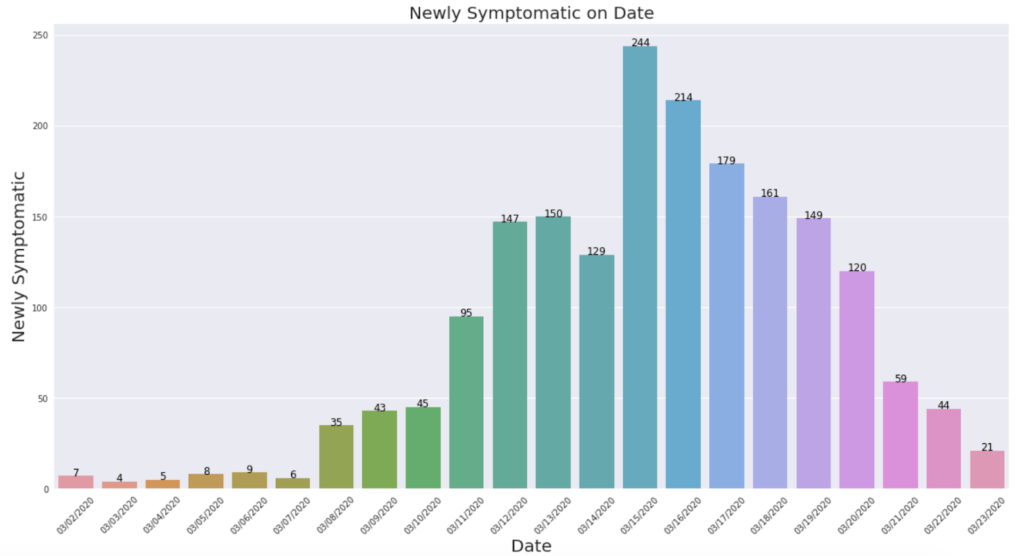 The above graph was constructed by analyzing data fed to us by more than 2000 respondents.  Thank you to those who responded, as this information has been especially important with understanding the development of new infections in our community. 
What the graph demonstrates quite eloquently is the rate of new cases reporting symptoms marking the onset of the illness. As we have not been testing we are using the clinical picture, by now well known to all, and this measure is probably accurate the vast majority of the time. 
The obvious good news is that the rate of new infection seems to have fallen very steeply, as we would expect with a novel virus. This means that we can hope to see fewer new cases in the coming days. We do however expect to see sporadic cases and it is for this reason that the elderly and frail must still be protected and remain isolated.
The continued high rate of hospitalization among those who remain ill is deeply disturbing, and we pray for their speedy recovery. 
Please – if you've only just developed symptoms of this sickness in the past few days, please fill out the survey below if you've not yet done so.  And a plea to anyone else who has not filled it out yet to please fill it out, even if you have not had symptoms.
Hatzalah/TGS COVID Survey
We would like to continue to reiterate the importance of self isolation for those above 65, those with underlying health conditions, and those that are sick.  For those without symptoms (and recovered according to the criteria), please continue to practice strict social distancing. 
There remains a serious communication issue when children cannot visit their parents in the hospital. Besides the anxiety generated by not "knowing", there is always the worry that "I'm not there to advocate for them".
We are struggling to open effective means of communication with patients in the hospital, and progress is being made. All the hospitals are aware of the problem, some are managing better than others to work out solutions.
We are repeating the plea for adults who HAVE HAD the illness (and recovered as defined by the criteria) to go and take care of your parents if they are currently ill with presumed COVID. If your elderly parents (>65) remain not ill and without symptoms, continue to KEEP YOUR DISTANCE from them.  
Concerning Plaquenil (hydroxychloroquine) – There is a possibility that only a few tabs may be dangerous for children if accidentally ingested. To all those who received Plaquenil, please be aware that any unused tablets must be carefully discarded and not get into the hands of children.  
As far as Pesach travel is concerned, it remains difficult to predict how this illness will affect other communities.  Our concern for people going to family out of town is that those elderly or at risk, who have been isolated here, will be exposed to cases out of town where the illness may still be quite prevalent. 
Mental Health:
As we progress through this outbreak, we are aware of the immense anxiety felt by every individual. To this end, we are trying to provide access to professional help. Neshamos.org has collaborated with a remarkable team of mental health professionals to provide mental health support. Please call the hotline number (212-901-2000) to speak with a licensed mental health professional.
COVID hotline:212-901-2000
Errand Helpline:[email protected]
– The Gedaliah Society, in conjunction with Dr. Rosen