City a worldwide destination for Jewish tourists and business travelers
By Menachem Posner, Chabad.org
Japan's famed cherry trees are in full blossom, tourists are streaming in by the trainload with ooh's and aah's over Kyoto's traditional architecture and serene rock gardens, and the (often kosher) sake is as delightful as ever. Just before Passover, it's the perfect time for Rabbi Dovid and Chaya Mushka Posner, and their infant son Menachem Mendel, to found the city's first permanent Chabad House.
Home to a whopping 17 UNESCO World Heritage Sites that were largely spared bombardment during World War II, world-class universities, and the headquarters of Nintendo and many other tech companies, the city attracts many Jewish visitors from Israel, the United States, Europe and elsewhere.
"It's amazing how many people have contacted us in the few days since we arrived," marveled the rabbi, a 25-year-old native of Southern California. "People see our website, hear about us on social media, and they are eager to find kosher food, prayers and other Jewish services."
The couple landed just days before Purim and immediately set out to host their first event, a Megillah reading and cozy celebration on Purim eve. Until they can locate a suitable facility near the bustling center of town, where tourism is concentrated, their home, which doubles as an ad hoc Chabad center, is in a duplex in a quiet residential area.
Using several apps, including Duolingo and Pimsleur, the couple is trying to learn Japanese as fast as possible since many of their neighbors speak no English. So far, the only major cultural misunderstanding they encountered was that their trash was not picked up because they didn't know to pack it in the specific bag required.
The Posners are hardly strangers to living in a remote locale to serve as Chabad-Lubavitchemissaries.
Chaya Mushka Posner grew up in Caracas, Venezuela, where her parents, Rabbi Chaim and Milka Raitport, are longtime emissaries. Dovid Posner is a fourth-generation emissary. His great-grandparents, Rabbi Sholom and Chaya Posner, built much of the infrastructure for Jewish life in Pittsburgh. His one set of grandparents, Rabbi Zalman I. and Risya Posner, served as lifelong emissaries to Nashville, Tenn., and the other set, Rabbi Shmueland Hindy Lew, have been stationed in London since 1964. His parents, Shimon and Y. Chaya Posner, co-direct a Chabad center in Rancho Mirage, Calif.
"The truth is that we have it much easier than our parents did," explains Chaya Mushka Posner, 22. "Technology has made it so simple to be in touch with family and friends, so you never really feel far. They didn't have that luxury. In fact, with the power outages and unrest in Venezuela, there are still days when my parents are out of contact, and we just have to trust that everything is OK with them."
They originally learned about the need in Kyoto from Rabbi Mendi and Chana Sudakevich, co-directors of Chabad-Lubavitch Tokyo-Japan since 2000, who have mentored them throughout the process of moving to Japan and establishing their Chabad House.
The Challenge of Finding Kosher Food
One of the ongoing challenges of facilitating Jewish life in Japan has been the difficulty of importing kosher meat, which requires a mound of paperwork and significant expense. To mitigate this, Dovid Posner trained as a shochet (kosher slaughterer) under his father-in-law, who has been slaughtering kosher meat in Venezuela for decades. On Purim morning, the rabbi met with Chabad Rabbi Shmulik Vishedsky of the Kobe Jewish community in an abattoir near Kobe to slaughter and salt a run of fresh kosher chickens to be used by Jews living in Japan and their guests.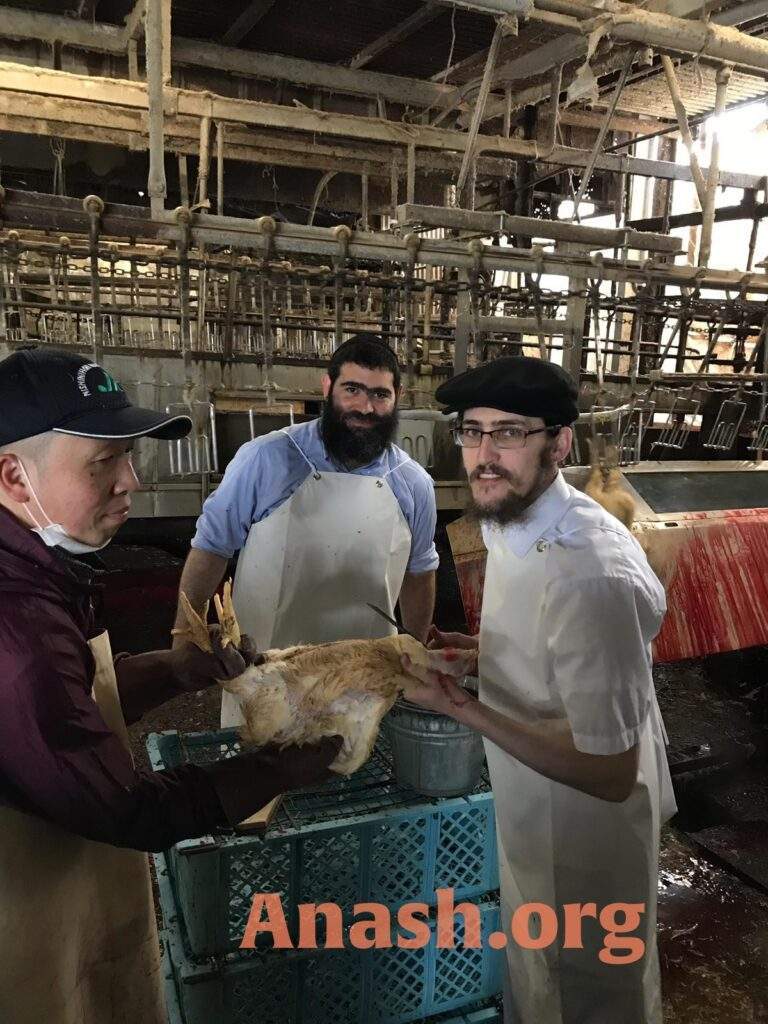 The next project for the Posners will be hosting their first-ever Passover Seder. They have a hall tentatively lined up, and the chickens are in the freezer. They are now working feverishly to procure shmurah matzah, wine and bitter herbs, and, of course, to spread the word as widely as possible so Jewish residents and visitors will join them.
For more information, contact Chabad of Kyoto at www.jewishkyoto.com.